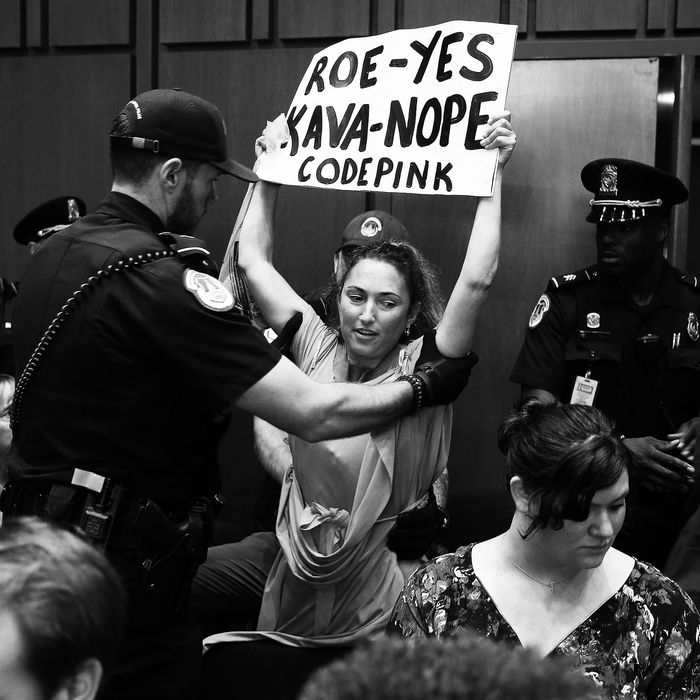 Protester escorted out during the Kavanaugh hearing.
Photo: Tasos Katopodis/EPA-EFE/REX/Shutterstock
Tuesday morning's Senate confirmation hearing over Brett Kavanuagh's nomination to the Supreme Court began with immediate chaos. Not only did a slew of Democratic Senators immediately call for the hearing to be adjourned (after receiving a late-night Monday document dump of more than 42,000 pages relating to the nominee), but protesters were also escorted out of the hearing after shouting that this was a "travesty of justice" and repeatedly urging the senators to not vote.
Shortly after the hearing began, protesters began cheering and yelling from the back of the room. Within the first 15 minutes, a protester was escorted out of the room by police after yelling "Cancel Brett Kavanaugh. Adjourn the hearing." Another protester yelled, as the other was being led out, "I need you to be a hero. Be a hero. Cancel this hearing." Simultaneous yells and cheers continued from protesters in the hearing room.
The protesters continued to interrupt the proceedings — all within the first 30 minutes — and one by one, others were escorted out by police. One protester said, "You cannot confirm someone who does not represent the majority opinion. We're the majority; not you — 2.8 million more votes." She was also led out of the room.
All of the protests listed above occurred within the first half hour of the hearing — which is scheduled to last four days. Follow along with the Cut's coverage here.