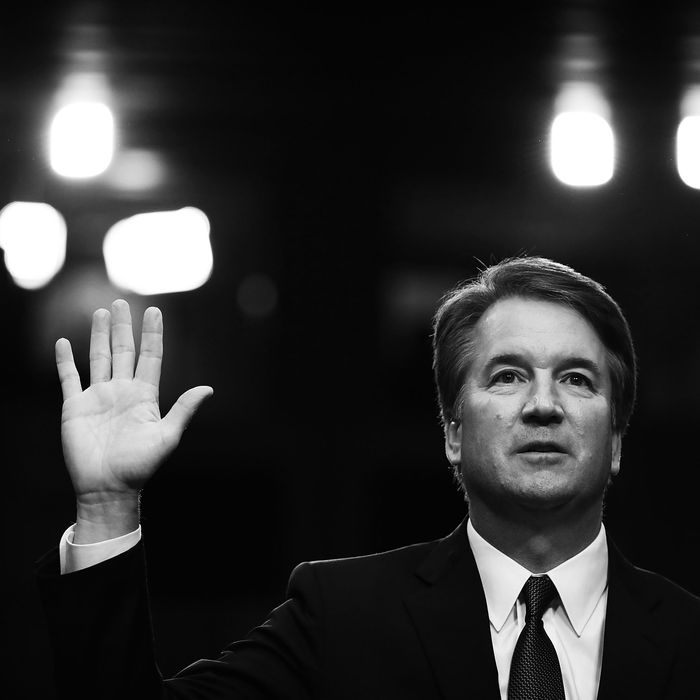 Brett Kavanaugh.
Photo: Drew Angerer/Getty Images
On Wednesday, day two of Brett Kavanaugh's Supreme Court confirmation hearings again began in chaos. (For a review of the intensity of day one of the hearings, click here). Although Democratic senators did not start out by voicing their opposition to the hearing as they had the day before, at least four people — including a woman in a wheelchair — were led out of the room by police as they yelled, "Sham president, sham justice," "Stop slaughtering our children," "Mother Earth," and other calls of protest. That was just within the first ten minutes.
Day two of the hearings focused on questioning of Kavanaugh by members of the Senate Judiciary Committee. Here, a running list of the day's most crucial moments, which we will be updating continually.
Senator Dianne Feinstein "interrupted" Kavanaugh during questioning about assault weapons .
Senator Dianne Feinstein began her questioning by asking Kavanaugh about his vote to strike down D.C.'s assault weapon ban. The nominee said he had to vote that way because of Supreme Court precedent. What followed was a tense exchange between Feinstein and Kavanaugh. "Let me interrupt you because I think we're on totally different wavelengths," the senator said. The pair had a back-and-forth about whether assault weapons are protected under "common use." Feinstein asked Kavanaugh, "How do you reconcile what you just said" with the hundreds of school shootings that have used assault weapons?
Feinstein repeatedly attempted to get Kavanaugh to share his thoughts on Roe v. Wade. He just kept saying it was precedent.
During her questioning, Feinstein then switched to women's reproductive rights. She brought up all the deaths that occurred in the '50s and '60s before Roe, and said she didn't "want to go back to those death tolls." The senator repeatedly tried to get Kavanaugh to share his views on a women's right to choose and Roe v. Wade. The nominee, in turn, was exactly as evasive as expected: He talked around the issue, saying that the decision is precedent, and that Planned Parenthood v. Casey, which affirmed Roe, is "precedent on precedent." But the Supreme Court has overturned precedent before — it's well within the court's power to do so. So, while Kavanaugh also said he "understands" the importance of the issue, his answer did not indicate how he would rule on women's reproductive rights.
Senator Orrin Hatch went out of his way to paint Kavanaugh as a feminist before asking about sexual harassment.
Republican senator Orrin Hatch went on about the number of female clerks Kavanaugh hired — and referenced a letter of support signed by several of his former female law clerks — before asking him about sexual harassment. Hawaii senator Mazie Hirono has already made it known that she plans on asking Kavanaugh about sexual-misconduct allegations against his former boss, Judge Alex Kozinski, which many people have said were an open secret among people close to the judge. Hatch went ahead and asked Kavanaugh softball questions about Kozinski before Hirono had a chance, and the nominee in turn distanced himself from Kozinski and said he did not know about the conduct.
Kavanaugh refused to say whether he believes the president has the right to pardon himself.
Democratic senator Patrick Leahy's questioning of Kavanaugh largely focused on whether the nominee received emails stolen from Leahy and other Democrats in 2002, but at the end of his time, Leahy switched gears and asked Kavanaugh, point blank, about presidential immunity. First, he asked whether the president would have the right to pardon himself. Kavanaugh said he could not answer that question as it is "hypothetical." Then, Leahy asked if the president should be allowed to pardon someone in exchange for that person agreeing not to testify against the president, to which Kavanaugh again refused to answer.
Senator Dick Durbin grilled Kavanaugh on his decision in a case involving a young immigrant who wanted an abortion.
Last year, while serving on the D.C. Circuit Court, Kavanaugh issued a decision that would have delayed a 17-year-old girl in immigrant detention from getting an abortion — even though she was already almost 16 weeks into her pregnancy. In Kavanaugh's decision (which was eventually overturned), he described her case as an instance of "abortion on-demand."
Democratic senator Dick Durbin grilled Kavanaugh on this point, noting that the minor had obtained a judicial bypass, which should have allowed her to get the procedure without parental consent, and "complied with every legal requirement, including Texas state requirements, placed in front of her, so she could move forward with her decision."
In response, Kavanaugh emphasized that Jane Doe was a minor. If she were an adult, he said, "she would have a right to obtain the abortion immediately." He added that his interpretation of parental consent laws meant she had to be placed with an immigration sponsor with whom she could consult about the decision "if she wished" before getting the procedure — even though, as Durbin pointed out, she had already jumped through all the legal hoops put in her way by Texas law, including by obtaining the aforementioned judicial bypass.
Senator Richard Blumenthal compared the way Kavanaugh talks about "existing precedent" to a "current wife."
While Senator Blumenthal was questioning Kavanaugh about his dissent in Hargan v. Garza (the aforementioned case involving a 17-year-old in immigrant detention being denied an abortion) and pushing him to clarify his position on Roe v. Wade, Blumenthal made a curious analogy. Blumenthal's apparent intent was to challenge Kavanaugh's reference to Roe v. Wade as a "current precedent" during questioning.
"It's a little like somebody introducing his wife to you as 'my current wife,'" said Blumenthal. "You might not expect that wife to be around for all that long."
Despite the odd phrasing, Blumenthal was firm in his line of questioning. He asked Kavanaugh if he would vote to overturn Roe v. Wade if the decision came up. Kavanaugh declined to answer.
Senator Mazie Hirono asked Kavanaugh if he believes women who accused his former boss of harassment.
Senator Hirono previously stated that she would question Kavanaugh about his former boss, Judge Alex Kozinski, who was accused of sexually harassing over 15 women. Hirono asked if he was aware of the behavior; Kavanaugh claimed he had absolutely no knowledge of Kozinski's behavior.
Hirono seemed skeptical of Kavanaugh's answer. "You saw nothing, you heard nothing, and you obviously said nothing," she said. She then asked him if he believed the women who accused Kozinski of inappropriate behavior.
"I have no reason not to believe them," Kavanaugh responded.
She also asked Kavanaugh if he was aware of Rob Porter's history of domestic abuse allegations.
Following up her questioning about Alex Kozinski, she asked Kavanaugh if he was aware of Rob Porter's domestic abuse record when he nominated Porter for staff secretary for Donald Trump.
"Were you aware of allegations of domestic violence before you recommended Rob Porter for staff secretary?"
Kavanaugh claimed he had no knowledge of Porter's history, and also implied that he was not the person who suggested Porter for the role.
Kavanaugh evaded Senator Booker's questions about racial inequality and judicial rulings.
Senator Booker wasted no time when his turn for questioning came. He focused his questions on SCOTUS decisions about race-conscious policies and asked Kavanaugh to give his personal opinion on those rulings.
After a series of exchanges between Kavanaugh and Booker, Kavanaugh repeatedly avoided providing an answer on his personal beliefs, instead referencing Supreme Court precedents. Booker did not tolerate the reponses.
"Is it never permissible for government to use race to redress past discrimination?" asked Booker.
"The Supreme Court has said," responded Kavanaugh.
"I know what the Supreme Court has said. I want to know what you think," said Booker.
Multiple times, tensions rose between the two men, as Booker refused to accept Kavanaugh's non-answers, and Kavanaugh's refused to address the actual questions Booker asked. Booker ended his questioning with a monologue about the continued racial injustices in the United States, and reiterated that Kavanaugh's potential confirmation would have lasting implications for all Americans.
Senator Harris opened her line of questioning by asking Kavanaugh if he has discussed the Mueller investigation.
Senator Harris asked Kavanaugh if he has spoken with anyone at the Kasowitz Benson and Torres law firm about the Robert Mueller investigation. That law firm is the firm responsible that is representing Donald Trump. Kavanaugh said he could not answer the question, because he didn't have a full roster before him of employees from the firm.
After interruption from protestors, Harris asked the question again. As Kavanaugh repeated his answer of not knowing the full roster of employees. Harris moved on after stating it was that he wasn't going to answer the question.
Senator Harris challenged Kavanaugh on the use of the term "racial spoils system."
Senator Harris asked Kavanaugh about his use of the term "racial spoils system" nearly 20 years ago in an op-ed in the Wall Street Journal. She asked about how he defined that term and pointed out that the term is used by white supremacists. When Harris asked him what he meant by the term, Kavanaugh responded "I'm not sure what I was referring to then."
More protesters interrupted Wednesday evening's hearings.
During questions from Senators Cory Booker and Kamala Harris, more protestors interrupted the proceedings by standing up and shouting. They yelled "be a hero" and asked the senators not to confirm Kavanaugh. All of the people were quickly removed from the courtroom, and when they interrupted during Harris' questioning, which occurred at the end of the night, all people sitting in the back two rows of the room were cleared out by security.
The protests come after 70 people were arrested on the first day of the confirmation hearing. Activists are protesting the nomination of Kavanaugh based on his voting record and the potentially disastrous effects he could have on abortion rights, civil rights, and access to health care.
This post has been updated.