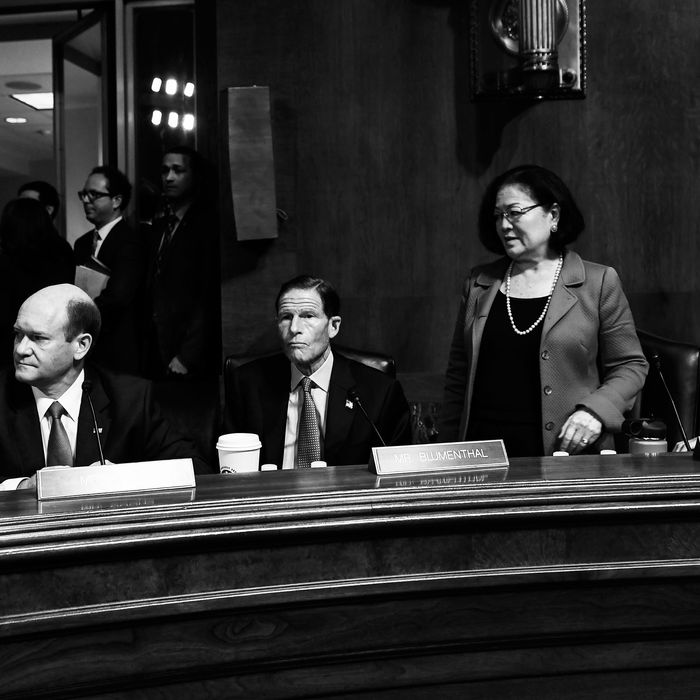 Senator Mazie Hirono walking out during Kavanaugh hearing.
Photo: Brendan Smialowski/AFP/Getty Images
Four Democratic senators — Kamala Harris, Richard Blumenthal, Mazie Hirono, and Sheldon Whitehouse — walked out in protest during Friday's Senate Judiciary Committee meeting on Brett Kavanaugh's confirmation to the Supreme Court.
After a contentious Thursday hearing on Christine Blasey Ford's sexual-assault allegation against Kavanaugh, Democrats asked during the Friday committee meeting that the nominee's alleged accomplice, conservative writer Mark Judge, be subpoenaed. Their request was rejected after an 11-10 vote. But once the Republicans on the committee voted to schedule the vote on Kavanaugh for 1:30 p.m. that day, the four senators got up and left the hearing room.
"I strongly object," Hirono said as she walked out. "This is just totally ridiculous. What a railroad job."
In a press conference — held simultaneously as Grassley continued to speak in the meeting — the senators decried the vote. "From the beginning on this, it should not be about raw power influencing the outcome of a decision that is about not only a statement of what we hold as being precious and important in our system of justice, but who will sit for a lifetime on the Supreme Court," Senator Kamala Harris said. "And this has been about raw power. You're seeing that on display in the hearing this morning; you're seeing that in the process from the beginning. … This is a failure of this body to do what it has always said it is about, which is be deliberative."
When asked whether the walk-out was coordinated and why the Democrats had put so much focus on calling for an FBI investigation during the hearing, Hirono replied, "You don't think a FBI investigation is at the core of all of this? What have we been saying if not all of that?" She added, "And by the way we did not coordinate walking out. We feel this in here," pointing to her heart.