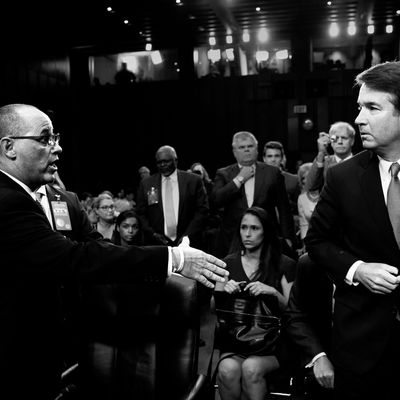 Fred Guttenberg and Brett Kavanaugh.
Photo: Andrew Harnik/AP
Many members of the public were kicked out of Brett Kavanaugh's Senate confirmation hearing less than an hour after its start, but Fred Guttenberg — whose daughter Jamie was killed in the massacre at Stoneman Douglas High School in Parkland, Florida — remained in the room. He was hoping to introduce himself to the conservative judge. When he attempted to shake Kavanaugh's hand at the end of the morning session, though, the judge rejected his gesture and turned away — an interaction that quickly went viral on social media.
Following the incident on Tuesday, Guttenberg, who has advocated for stricter gun legislation, and attended the hearing as Senator Dianne Feinstein's guest, took to Twitter. "Put out my hand to introduce myself as Jaime Guttenberg's dad," he wrote. "[Kavanaugh] pulled his hand back, turned his back to me and walked away. I guess he did not want to deal with the reality of gun violence."
The interaction was also captured on video, which Shareblue writer Tommy Christopher shared on Twitter. "Wow, here you can hear Fred Guttenberg telling Kavanaugh that his daughter 'was murdered in Parkland,' and Kavanaugh whirls and walks away," he tweeted.
In response to Guttenberg's tweet, White House Principal Deputy Press Secretary Raj Shah disputed his account, claiming that security intervened when they saw an "unidentified individual" approach Kavanaugh.
A video captured by CSPAN, however, seems to tell a different story. Although a security guard was present, Kavanaugh looked Guttenberg in the eye as he introduced himself, and then turned around to walk the other way — an interaction that the public has decried as cold, disrespectful, and revealing, particularly given the fact that the NRA has pledged to spend at least $1 million on pro-Kavanaugh ads.