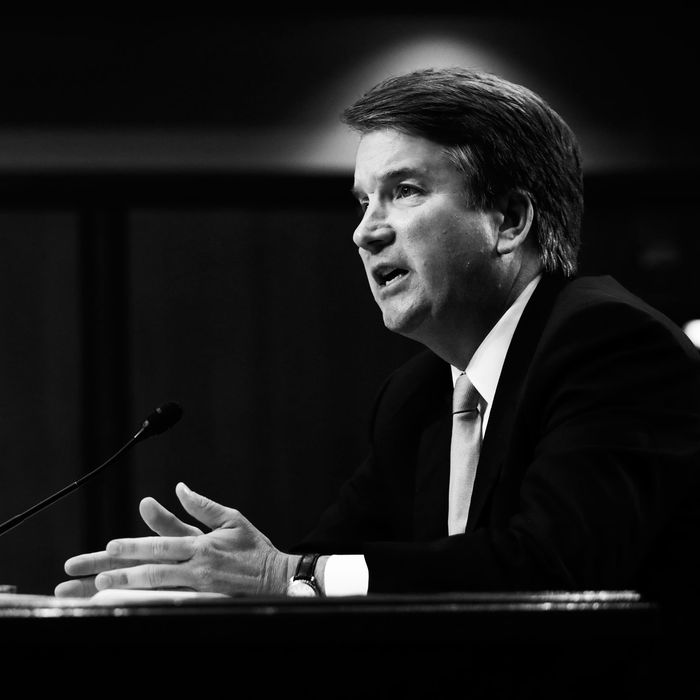 Brett Kavanaugh.
Photo: Drew Angerer/Getty Images
The Senate Judiciary Committee had scheduled a hearing for Monday over the sexual-assault allegation against Brett Kavanaugh, the Supreme Court nominee accused of holding down, groping, and attempting to disrobe Palo Alto University professor Christine Blasey Ford when they were both in high school. (Kavanaugh has denied Ford's claim, calling it a "completely false allegation.") Ford initially called for the FBI to investigate her claim before she testifies – a request denied by committee chairperson Chuck Grassley. Now, Ford has said through her attorney that she is open to testifying next week, as long as she receives a fair hearing and safety considerations.
The details surrounding the sexual-assault hearing are constantly changing. Here, what you need to know about the hearing. We will continue to update this post as new developments continue to pop up.
Christine Blasey Ford initially wanted to keep her allegation confidential, as she feared what coming forward would mean for her and her family.
By now, the allegation against Kavanaugh is well known: Ford claims that one "drunken" night, at a party in Maryland during high school, Kavanaugh got on top of her, held her down, and attempted to sexually assault her while his friend Mark Judge watched. Ford initially recounted her story in a confidential letter to Senator Dianne Feinstein, and later told the Washington Post that she sought anonymity because she was afraid of being subjected to public attacks. "Why suffer through the annihilation if it's not going to matter?" she said.
After her allegation leaked and reporters began to approach her, Ford came forward.
Ford's identity as Kavanaugh's accuser was revealed in an exclusive interview with the Post on Sunday, September 16. Speaking of her story being leaked, Ford told the Post, "These are all the ills that I was trying to avoid. Now I feel like my civic responsibility is outweighing my anguish and terror about retaliation." Kavanaugh has strongly denied the allegation.
The Senate Judiciary Committee set a public hearing over the allegation for Monday, September 24.
After Ford's allegation came to light, the Senate Judiciary Committee's Democratic members quickly called for a hearing to be scheduled. By late Monday, Republican committee chairman Senator Chuck Grassley set the public hearing date for the following week: Monday, September 24. He said the hearing would "give these recent allegations a full airing."
Kavanaugh's alleged accomplice Mark Judge said he would not testify.
The only other person named in Ford's account of the alleged assault, Mark Judge, has denied that the attack ever took place. Judge told the Weekly Standard, "It's just absolutely nuts. I never saw Brett act that way." Yet, he has also refused to testify before the Senate Judiciary Committee. In a letter signed by his attorney, Judge wrote:
I did not ask to be involved in this matter nor did anyone ask me to be involved. The only reason I am involved is because Dr. Christine Blasey Ford remembers me as the other person in the room during the alleged assault. In fact, I have no memory of this alleged incident. Brett Kavanaugh and I were friends in high school but I do not recall the party described in Ford's letter. More to the point, I never saw Brett act in the manner Dr. Ford describes.
Judge's refusal to participate means the hearing would be missing someone the accuser named as a key witness.
Ford called for a FBI investigation into the matter. She wrote in a letter that she has been receiving death threats and had to move her family out of their home.
In a letter addressed to Grassley, which was obtained by New York, Ford's attorneys said that she wants an FBI investigation into her sexual-assault claim. The letter also states that Ford has received death threats, has had to move out of her family home, has had her email hacked, and been the victim of other attacks. It reads, in part:
While Dr. Ford's life was being turned upside down, you and your staff scheduled a public hearing for her to testify at the same table as Judge Kavanaugh in front of two dozen U.S. Senators on national television to relive this traumatic and harrowing incident. The hearing was scheduled for six short days from today and would include interrogation by Senators who appear to have made up their minds that she is 'mistaken' and 'mixed up.' While no sexual assault survivor should be subjected to such an ordeal, Dr. Ford wants to cooperate with the Committee and with law enforcement officials.
Senate Judiciary Committee members publicly disagreed over whether time for an investigation should be permitted.
Some members of the committee, including Democratic senator Kamala Harris, called for Monday's hearing to be postponed to allow the FBI to conduct a full investigation:
Meanwhile, others (including Republican senator Lindsey Graham) are not keen on delaying the hearing:
Grassley declined Ford's request for a FBI investigation, and gave her a deadline of September 21 to decide whether she will testify.
Grassley has set a deadline of Friday, September 21, for Ford to decide whether she'll testify in the Monday hearing, dismissing her wishes that the FBI have time to investigate the matter. In a letter to Ford's legal team, per the BBC, Grassley wrote that "it is not the FBI's role to investigate a matter such as this." He also wrote that vetting a Supreme Court nominee is the role of "only the Senate." The letter further reads, in part:
I have reopened the hearing because I believe that anyone who comes forward with allegations of sexual assault has a right to be heard, and because it is the Committee's responsibility to fully evaluate the fitness of a nominee to the Supreme Court.
Now, Ford's attorney said she is open to testifying next week, but that Monday is "not possible."
Ford's attorney Debra Katz told the Senate Judiciary Committee in a letter that it was "not possible" for her to appear at the Monday hearing, but that she would be "prepared to testify last week." Katz wrote, in part:
As you are aware, she's been receiving death threats which have been reported to the FBI and she and her family have been forced out of their home. She wishes to testify, provided that we can agree on terms that are fair and which ensure her safety. A hearing on Monday is not possible and the committee's insistence that it occur then is arbitrary in any event.
This post has been updated.