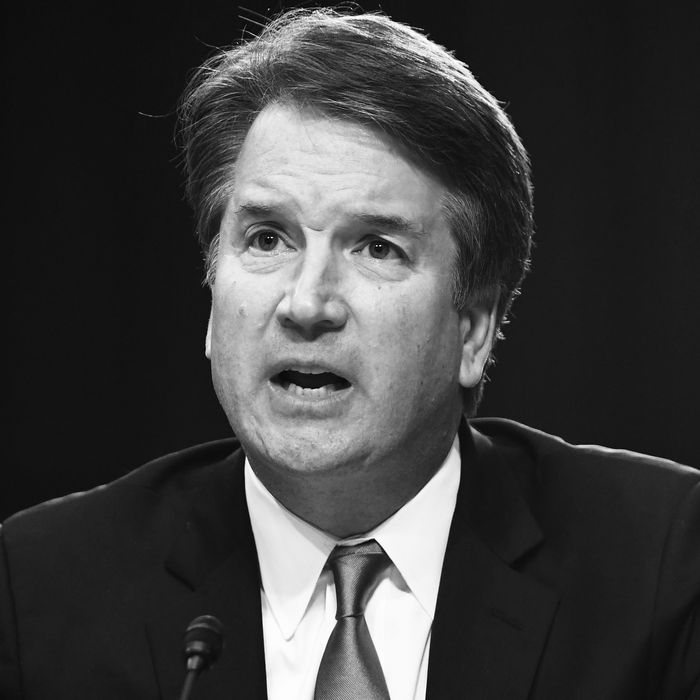 Brett Kavanaugh.
Photo: SAUL LOEB/AFP/Getty Images
On Sunday, Christine Blasey Ford went public with her allegation of sexual misconduct against Supreme Court nominee Brett Kavanaugh. Speaking with the Washington Post, the Palo Alto University psychology professor said Kavanaugh held her down, groped her, and tried to disrobe her when they were both in high school. "I thought he might inadvertently kill me," Ford told the Post. "He was trying to attack me and remove my clothing."
The Post's report came shortly after it had been revealed that California senator Dianne Feinstein had received a letter detailing alleged sexual misconduct by Kavanaugh. Both Ford and Kavanaugh will now testify at a public hearing before the Senate Judiciary Committee on Monday.
How exactly the allegation against Kavanaugh came out is complex, and its impact is still unfurling. Here's what you need to know.
In July, Senator Dianne Feinstein received a letter from a constituent detailing a sexual-assault allegation against Brett Kavanaugh.
California senator Dianne Feinstein received a letter, dated July 30, from a constituent, which was marked "CONFIDENTIAL." The letter, a redacted version of which was later published by CNN, reads in part:
Brett Kavanaugh physically and sexually assaulted me during high school in the early 1980's. He conducted these acts with the assistance of REDACTED. Both were one to two years older than me and students at a local private school.
Per Ford's account, Kavanaugh held her down and covered her mouth, and his friend — later identified as Mark Judge — turned up the music to drown out her protests. The constituent requested that Feinstein keep the letter and its contents confidential until the writer spoke with Feinstein. The letter concludes, "It is upsetting to discuss sexual assault and its repercussions, yet I felt guilty and compelled as a citizen about the idea of not saying anything."
The letter was kept a secret until recently — its existence was only revealed after the Kavanaugh Supreme Court confirmation hearings were already underway.
The constituent letter sent to Feinstein was initially kept confidential by the senator, and its existence was only revealed to the public after a report last week by the Intercept. Soon after, other outlets started reporting about the letter as well. At the time, Feinstein would not comment publicly on the matter, saying in a statement:
 I have received information from an individual concerning the nomination of Brett Kavanaugh to the Supreme Court. That individual strongly requested confidentiality, declined to come forward or press the matter further, and I have honored that decision. I have, however, referred the matter to federal investigative authorities.
The New York Times reported that the anonymous constituent had initially reached out to Representative Anna Eshoo of California with the allegation before bringing it to Feinstein. BuzzFeed News reported at the time that it believed it knew who had written the letter, but that the author declined to speak with the outlet. The Times also reported that Feinstein only informed the other Democratic members of the Judiciary Committee of the letter and allegation that week, and that several of them had urged her to take the matter to the FBI.
Republicans on the Senate Judiciary Committee released a letter signed by 65 women who knew Kavanaugh when he attended Georgetown Prep.
On Friday, September 14, before the author of the Feinstein letter was made public, Senate Judiciary Committee Republicans released a letter that was signed by 65 women who knew Kavanaugh during his high-school years at Georgetown Prep, an all-boys school. "Through the more than 35 years we have known him, Brett has stood out for his friendship, character, and integrity," the letter reads, in part. "In particular, he has always treated women with decency and respect. That was true when he was in high school, and it has remained true to this day."
Palo Alto University professor Christine Blasey Ford came forward as the author of the Feinstein letter after it leaked.
Christine Blasey Ford, a professor of psychology at Palo Alto University who teaches in a consortium with Stanford University, revealed herself as the author of the letter in an interview with the Washington Post. She first contacted the Post in early July through a tip line, after it became clear that Kavanaugh was on Trump's short list of potential nominees to replace Justice Anthony Kennedy.
Ford initially declined to speak on the record to the Post, fearing what going public would mean for herself and her family. But after the existence of the letter was revealed, a BuzzFeed reporter visited Ford's home and approached her as she left class one day. Another reporter had reached out to her colleagues. "These are all the ills that I was trying to avoid," she told the Post after deciding to come forward. "Now I feel like my civic responsibility is outweighing my anguish and terror about retaliation."
Ford alleges that Kavanaugh assaulted her one "drunken" day in Maryland when they were both in high school. She claims his friend Mike Judge was an accomplice.
The Post details Ford's harrowing allegation:
She alleges that Kavanaugh — who played football and basketball at Georgetown Prep — held her down with the weight of his body and fumbled with her clothes, seemingly hindered by his intoxication. Judge stood across the room, she said, and both boys were laughing "maniacally." She said she yelled, hoping that someone downstairs would hear her over the music, and Kavanaugh clapped his hand over her mouth to silence her. At one point, she said, Judge jumped on top of them, and she tried unsuccessfully to wriggle free. Then Judge jumped on them again, toppling them, and she broke away, she said.
Kavanaugh has denied the allegations.
The White House sent the Post a statement from Kavanaugh issued after the allegations were made known. "I categorically and unequivocally deny this allegation. I did not do this back in high school or at any time," he said. Kavanaugh further denied the allegation in a Monday statement, also issued by the White House, saying he would be willing to talk to the Senate Judiciary Committee:
This is a completely false allegation. I have never done anything like what the accuser describes — to her or to anyone. Because this never happened, I had no idea who was making this accusation until she identified herself yesterday. I am willing to talk to the Senate Judiciary Committee in any way the Committee deems appropriate to refute this false allegation, from 36 years ago, and defend my integrity. 
His accuser, Ford, has also said that she would be willing to speak to the Senate Judiciary Committee.
When asked whether she would be willing to testify, Ford's attorney Debra Katz said, "The answer is yes." However, Katz said that, as of Monday morning, Ford had not yet been asked by lawmakers to testify.
The White House said that the new allegation has no bearing on Kavanaugh's nomination to the Supreme Court.
A lawyer close to the White House said there was "no way" Kavanaugh's nomination would be withdrawn after the accusation was revealed. "If anything, it's the opposite," the attorney said. "If somebody can be brought down by accusations like this, then you, me, every man certainly should be worried."
Lawmakers are having mixed reactions to the allegation. Many Democrats and some Republicans have called for a delay in the Kavanaugh vote.
All ten Democratic members of the Senate Judiciary Committee have called on the nomination vote to be postponed:
On the other side of the aisle, Republican senators Jeff Flake, Bob Corker, and Lisa Murkowski have also expressed support in delaying the confirmation. Meanwhile, Republican senator Lindsey Graham said he would be willing to hear what Ford has to say, but the confirmation should proceed as scheduled.
Former vice-president Joe Biden said that Ford deserves a "fair and respectful hearing." Biden has been criticized over how he treated Anita Hill during Justice Clarence Thomas's confirmation hearings.
In November, former vice-president Joe Biden issued an apology to Anita Hill, regarding his mistreatment of her during the Senate Judiciary Committee's hearings over the then-nomination of Clarence Thomas to the Supreme Court. Hill testified before the committee in 1991, detailing her allegations of sexual harassment against Thomas. Biden was the committee chairperson during the hearing, and did little to help Hill as she faced personal attacks from the Republican members of the committee.
But with the prospect of Ford's testimony against Kavanaugh potentially being heard by the committee, Biden has voiced his support for the accuser:
More than 200 alumnae from Ford's high school, private all-girls school Holton-Arms, signed a letter supporting her.
On Monday, a letter signed by more than 200 alumnae of the private girls' school Ford attended in Bethesda, Maryland — Holton-Arms — was released. The draft letter reads in part:
We believe Dr. Blasey Ford and are grateful that she came forward to tell her story. It demands a thorough and independent investigation before the Senate can reasonably vote on Brett Kavanaugh's nomination to a lifetime seat on the nation's highest court.
Meanwhile, the 65 women who initially signed a letter in support of Kavanaugh are reportedly now staying silent, with only two saying they still support him.
Kavanaugh's supporters spent much of Monday trying to defend him.
On CNN, Republican senator Orrin Hatch of Utah attempted to discredit Ford by insisting that she could be "mistaken" with her allegations.
"I talked to [Kavanaugh] on the phone today … [he said] he didn't do that, and he wasn't at the party," Hatch said. "So, you know, clearly, somebody's mixed up."
In addition, two women who say they dated Kavanaugh in high school and college —Maura Kane and Maura Fitzergerald, respectively — issued statements characterizing the SCOTUS nominee as a respectful "gentleman," seemingly in an attempt to paint Kavanaugh as a man incapable of sexual misconduct.
"He always conducted himself honorably with me at all times when we were together," Fitzgerald wrote.