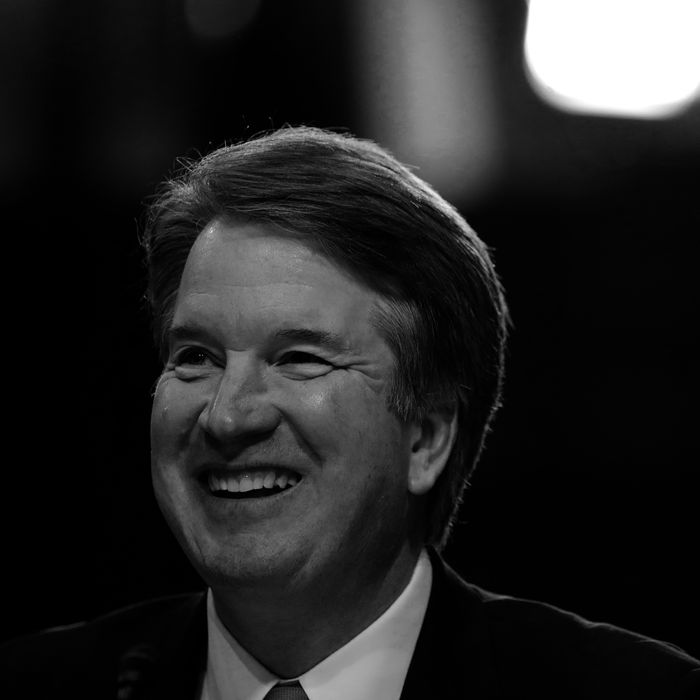 Brett Kavanaugh.
Photo: Drew Angerer/Getty Images
The Senate Judiciary Committee announced that they will vote on confirming Supreme Court nominee Brett Kavanaugh on Friday, according to the Associated Press. The vote will be within 24 hours of the hearing scheduled with Christine Blasey Ford about her sexual assault allegation against Kavanaugh.
Ford and Kavanaugh are both scheduled to testify on Thursday about an allegation that Kavanaugh and an accomplice, Mark Judge, pushed Christine Blasey Ford into a bedroom during a high school party. Kavanaugh then allegedly pushed her onto the bed, groped her, and covered her mouth with his hand when she attempted to scream. Kavanaugh has denied the allegation.
A hearing for Ford and Kavanaugh was initially scheduled for this past Monday, but Ford and her lawyers wanted more time before testifying, and worked for several days with Senate leadership before agreeing on the Thursday date.
In the short time since the allegation has been public and Ford has come forward, she has been harassed, sent death threats and forced to leave her home and hire security. President Trump tweeted about Ford, questioning why she didn't come forward sooner, and Republican Senators openly doubted her credibility.
On Tuesday afternoon Senate Majority Leader Mitch McConnell announced that the all male Judiciary committee will be hiring a "female assistant" to question Ford, even though Ford and her lawyers expressed that they did not want to be questioned by outside counsel.