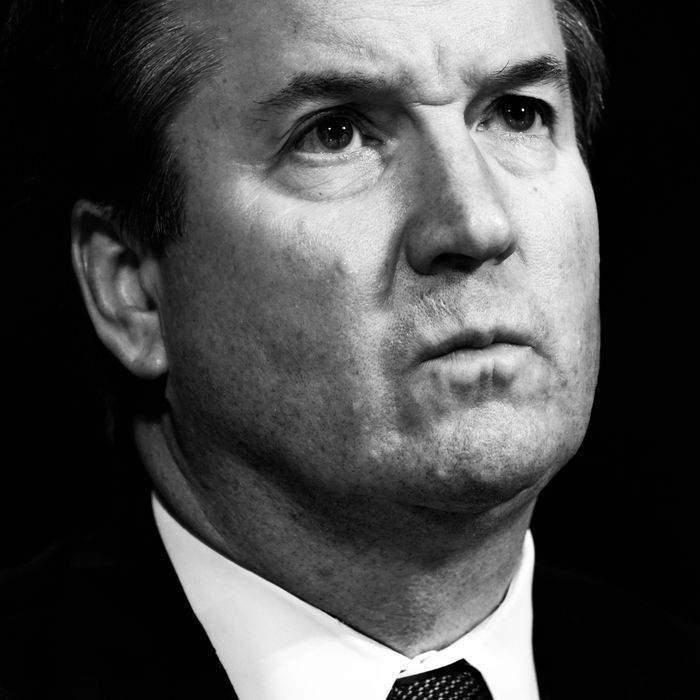 Brett Kavanaugh.
Photo: Andrew Harnik/Getty Images
On Friday afternoon, the Senate Judiciary Committee voted 11 to 10 to advance Brett Kavanaugh's Supreme Court nomination to the Senate floor. The vote came after Republican senator Jeff Flake said he was calling for a one-week delay on the Senate vote to allow for an FBI investigation into the Brett Kavanaugh sexual-assault allegations.
Prior to the vote, the day began with heated debate between Republican and Democratic committee members. Senator Lindsey Graham called the proceedings "the beginning of a process that will tear this country apart"; Democratic senators Kamala Harris, Mazie Hirono, Richard Blumenthal, and Sheldon Whitehouse walked out in protest.
The committee vote followed a contentious Thursday hearing into Christine Blasey Ford's allegation that Kavanaugh sexually assaulted her when they were both teenagers. Ford first shared her account with her senator, ranking committee member Dianne Feinstein, in a July letter. At Ford's request, Feinstein kept the allegation confidential throughout Kavanaugh's initial background check and nomination hearing. Ford, a Palo Alto University psychology professor and Stanford University researcher, only spoke out about her story in mid-September, after the existence of her letter leaked to the press.
During the Thursday hearing, Ford spoke publicly for the first time. With a clear and measured demeanor — and going out of her way to be accommodating to the Republican committee members — she spoke of the 1982 assault, as well as its impact on her life. She spoke of her fear of testifying, of not being a "politician's pawn," and of only hoping to offer important information about a judicial candidate. She also spoke of the long-lasting impact of the trauma, including how it led her to want to install a second front door in her home as an adult, so that she had an escape route just in case. Drawing on her expertise as a scientist, Ford also recalled hearing Kavanaugh and his friend laughing during the attack, saying the sound remains "indelible in the hippocampus," as spoke about the etiology of anxiety and PTSD.
Ford's polite testimony was a stark contrast to that of Kavanaugh, which was marked by belligerence, anger, tears, interruptions, and talk of Democratic conspiracies and the ways in which the allegation has "destroyed" his life. Kavanaugh cried about the impact the allegation has had on his family — and spoke of his young daughter insisting they pray "for the woman" before the hearing — and yelled about not being permitted to testify immediately after Ford's allegation emerged. At one point, during Kavanaugh's questioning, Graham erupted in anger at his colleagues during Kavanaugh's portion, saying, "This is the most unethical sham since I've been in politics."