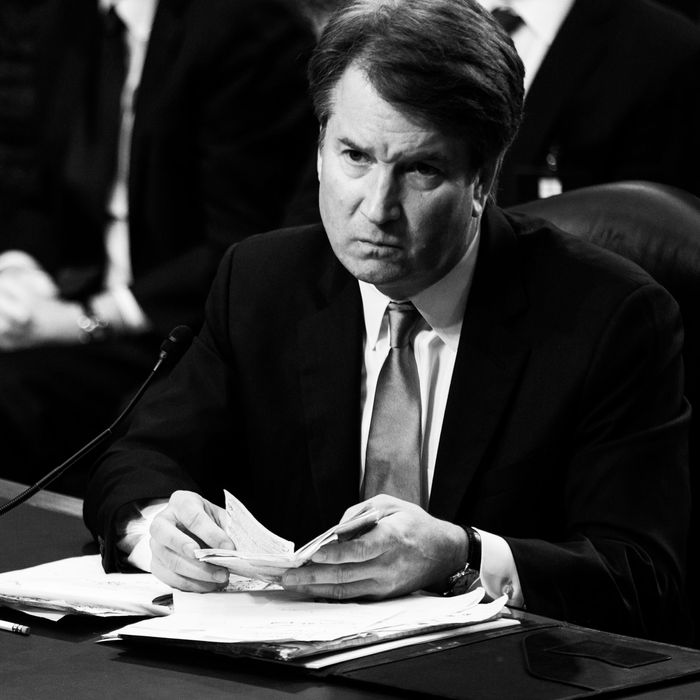 Brett Kavanaugh.
Photo: Zach Gibson/Getty Images
The New Yorker's report on Deborah Ramirez's allegation against Supreme Court justice nominee Brett Kavanaugh detailed alleged sexual misconduct by Kavanaugh during his freshman year at Yale. When The New Yorker published its story, Kavanaugh's lawyers provided a signed letter of support from Kavanaugh's former classmates at Yale.
"We were the people closest to Brett Kavanaugh during his first year at Yale. He was a roommate to some of us, and we spent a great deal of time with him, including in the dorm where this incident allegedly took place," read part of the statement. "Some of us were also friends with Debbie Ramirez during and after her time at Yale. We can say with confidence that if the incident Debbie alleges ever occurred, we would have seen or heard about it—and we did not."
After publication of the report, two of the signatories of that statement, Louisa Garry and Dino Ewing, contacted The New Yorker and requested that their names be removed. They said that they do not "wish to dispute Ramirez's claims."
"I never saw or heard anything like this," Garry said. "But I cannot dispute Ramirez's allegations, as I was not present."
"I also was not present and therefore am not in a position to directly dispute Ramirez's account," Ewing said, though The New Yorker reported that he emphasized that the allegation was "out of character" for Kavanaugh.
In the report, Ramirez said she was "disappointed and betrayed" by the statement from her former classmates in support of Kavanaugh. Kavanaugh has denied all the allegations against him.