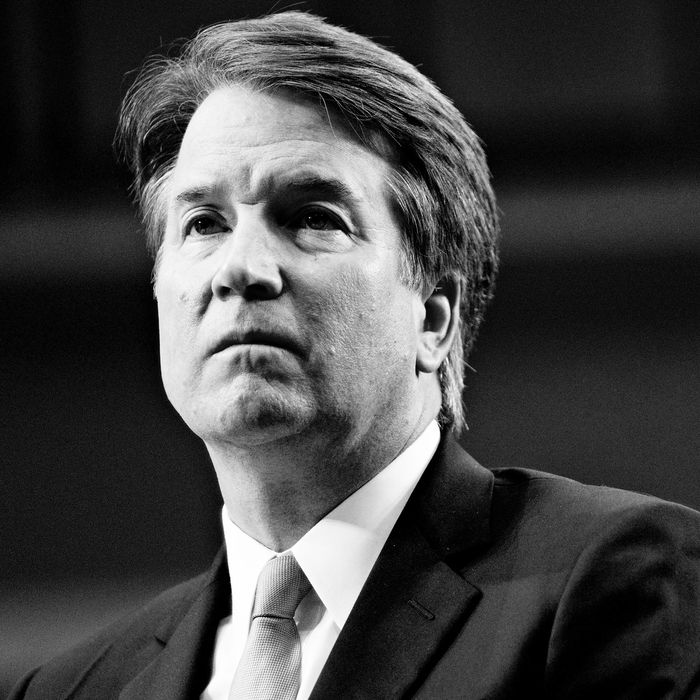 Brett Kavanaugh.
Photo: Andrew Harrer/Bloomberg via Getty Images
On Sunday, Deborah Ramirez came forward in The New Yorker to become the second woman publicly accusing Supreme Court nominee Brett Kavanaugh of sexual assault. Ramirez alleges that Kavanaugh drunkenly exposed himself to her at a freshman-year dorm party at Yale University, where she says he thrust his penis in her face, and that she was made to touch it during her efforts to push him away.
Ramirez acknowledges that she, too, was drunk, and her memory from the 1983 incident is hazy; the report also did not confirm with every eyewitness that Kavanugh was at the alleged party. But a former classmate interviewed for the story said another student told him about the incident soon after, and that he is "one-hundred-per-cent sure" that Kavanaugh was the student to expose himself to Ramirez. Since the new allegation, two Yale alumni have also withdrawn from their letter of support for Kavanaugh. And now, his former roommate, James Roche, has spoken out in solidarity with Ramirez.
In a statement released to select reporters Monday night, Roche writes of his experience as Kavanaugh's freshman-year roommate, concluding that "although Brett was normally reserved, he was a notably heavy drinker, even by the standards of the time, and that he became belligerent and aggressive when he was very drunk." Though he says he does not remember the incident of alleged sexual assault, he does remember Kavanaugh "frequently drinking excessively and becoming incoherently drunk."
Roche also describes his friendship with Deborah Ramirez, saying "she stood out as being exceptionally honest, with a trusting manner." He says Ramirez, a Puerto Rican woman who felt out of place among the privileged students of Yale, was worried about fitting in and tried hard to make friends and "get along."
"Based on my time with Debbie, I believe her to be unusually honest and straightforward and I cannot imagine her making this up," Roche writes. "Based on my time with Brett, I believe that he and his social circle were capable of the actions that Debbie described."
"I do not consider myself a political person and I have no political agenda," Roche writes. "I have shared this information with a small number of reporters who reached out to me directly because Debbie has a right to be heard and I believe her."