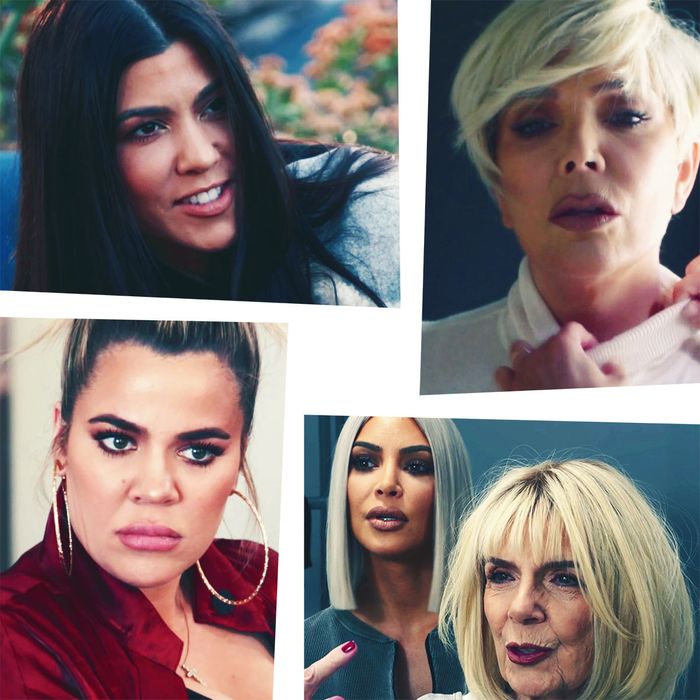 Photo: Courtesy of E! Entertainment
Our A-plot was the family's Family Feud episode; our B-plot was yet another Kourtney and Scott fight; and our C-plot didn't exist! Let's make like we're Kendall Jenner at NYFW and #LEGGO!
Scene 2:
At her home, Kris Jenner hosts the Kardashian women's annual meeting of the behinds. Before fellowship gets underway, Headmistress Kris and two of her parishioners, Kourtney and Kim, cut confused and cold looks at fellow congregant, Khloé Kardashian. The looks are caused by Khloé and her perfectly popped pregnant belly on Kris's swing set meant for her infantry of grandchildren. Scared the wooden playset will break under the physical weight of Khloé and the emotional weight of her unborn child's daddy issues, Kris and the gals politely ask Khloé to remove herself from the playset at once. After she's released herself from the confines of fun, Kim and Kourtney take her place, swinging free of guilt and baby weight, as they chat casually about the family's upcoming appearance on Celebrity Family Feud.
Riding her first high horse of the episode, Kourtney asks why the family is opting to spend their Saturday doing a dumb TV show that only Kim and Kanye watch (she also thinks it'll be even more embarrassing than their first Family Feud stint in 2008). Kim admits that she and Kanye are avid fans of the show, watching every night before bed, and Khloé shouts Kourtney down saying the family is going to make new memories without her. The only thing is, Kim, Khloé, and Kris aren't quite sure who in the family will be a part of the game. At the moment, Kris, Kim, and Khloé are locked in. Kanye will accompany the family and watch from backstage. Making sure to get some screen time, Kris chimes in and jokes that they'll be playing opposite Blac Chyna and Amber Rose. So original! Netflix, Kris is coming! This scene was filmed on February 6, 2018.
Scene 3:
Formerly estranged sisters Kourtney and Kim Kardashian West spend a few moments together in Malibu. (No reason is given for their spontaneous need for minimum speed, but I'm guessing it's easier to push someone overboard should their conversation turn south.) Using their very expensive feet to guide a small boat around a body of water made my humans (much like many parts of the sisters' bodies), they largely fail at the task, colliding with and careening toward the land around them. Paying no mind to their inability to properly pedal the boat, they begin taking selfies with one another.
Unfortunately, Kim's selfie-taking hand hurts so badly that she's unable to perform the simple act of capturing a perfectly angled Snapchat. This has been an ongoing issue with Kim. Whenever she uses her phone in certain positions, pain in her wrists and hands increase. This means she has no choice but to ask Kourtney to take a selfie for them, but angle it in a way that makes it look as though Kim took the selfie herself. Kourtney tries, but fails because her arms are too short. Kim then calls over her audio engineer, Erin Paxton. Erin's boating near them, and working on capturing the sound for the show. Kim doesn't care, and has Erin perform beginner gymnastics by splitting herself between the two boats, all while Kim yells "don't drop my phone!" Erin does a great job, and Kim, for once, is satisfied. This scene was filmed on February 1, 2018.
Scene 4:
Prior to her career in law, Kim Kardashian West was known for her beauty line, KKW Beauty. For said beauty line, she posed for a number of photo shoots to promote her beauty products including one with her grandmother, MJ Shannon, and mother, Kristen Kardashian. Though she's allegedly studying to become a lawyer, Kim is not the smartest woman on this shoot. MJ is.
Clad in the required blonde wig, MJ intelligently notes that she resembles Diane Keaton, an observation I made many months ago. MJ, you, like me, are a genius. I hope this helps you sleep a little more soundly tonight. MJ then suffers through a series of selfies with Kim and an excruciatingly sad FaceTime with Kourtney. Kim wanted to show Kourtney how great MJ looked with blonde hair, but when she picked up, Kourtney was in tears. She'd just learned that Scott introduced the kids to his girlfriend, Sofia Richie, and Kourtney is livid. However, she can't talk much about it because Penelope is in the room and she doesn't want to freak her out. Now, I'm no one's mama, but as far as I know hysterically crying for no reason in front of your child is equally as traumatizing. On the phone all Kourtney says is that she's having "Scott issues." MJ says "of course."
Once off the phone with Kourtney, Kim and MJ head to set where Kris Jenner, also in a blonde wig, awaits. But before she can jump to work, Kris takes a call from Scott. He's upset with Kourtney's reaction to the kids meeting Sofia because they've already met her boyfriend, Younes, and besides — they met her by accident. The kids came over when she happened to be visiting, and it just seemed like the right time. Kris doesn't tell Scott that he's in the wrong, but she does tell him that she'll have to support whatever Kourtney decides because she's her daughter. This scene was filmed on January 2, 2018.
Scene 6:
At Khloé's, Kris, Kourtney, Kim, and their cousin CiCi have dinner. Over salads and small talk, Donald Trump's pen pal Kim Kardashian West forces the family to play a round of Family Feud on her iPad. In regards to this impromptu, extremely natural game night, Kourtney tells Kim that she has no interest in participating. But Kim drills Kourtney with questions, and when she fails to answer fast enough, Kim tells her she's out and tells Mason that his mom is "slow." Surprisingly, CiCi does the best and is added to Kim's team. She also thinks that MJ would be a great addition as well. Like Scene 2, this scene was filmed on February 6, 2018.
Scene 8:
Eating up both Khloé's cookies and her time, Kim stops by her younger sister's home to talk more about Family Feud. This time, she's trying to convince Kendall to join their team. MJ is still an option, but she can't confirm until day of, because her participation is largely dependent on how she feels when she wakes up. Kendall quickly agrees, even though she's never seen an episode of the show and immediately regrets her decision when Kim casually mentions that the family takes turns answering questions.
Kendall, the hardest non-worker in showbiz, shouts, "it's a turn!? It's a TURN!?!" over and over again until her head pops off and falls onto the body of a lanky Kentucky adolescent who wants to become a model so that she can provide for her family, as photo shoots are the only way out of moderate to extreme poverty. Just kidding, Kendall simply shouts until Khloé pulls her aside to play the Family Feud iPad game on the couch. Like Kourtney, Kendall's not too great at the game, but Khloé tells her little sister that she'll whisper the answers to her, and they'll be all right. Kendall Jenner pretending to enjoy being a part of this family was filmed on January 18, 2018. About a month before Kim struggled to find family members to play in Scenes 2 and 8 on February 6.
Scene 9:
Back in Khloé's backyard, Kim, Kris, Khloé, and Kourtney wrack their minds yet again for possible Family Feud contestants. Apparently, Kylie, Rob, and Kourtney all won't do it, so they need to find someone to fill at least one more slot immediately because Kim's jumped ship for another team. Initially, the Hilton family was supposed to play against them, but they've dropped out. Luckily, Kim was able to convince Kanye to play, but this meant that she'd be playing with Kanye and his cousins, as a West, against the Kardashian family.
Kris and Khloé are mad because they've agreed to do this as a favor to Kim, and now they'll embarrass themselves — because none of them know how to play. Kim doesn't really feel any remorse; instead, she tells Kris to see if Jonathan Cheban can be available for a day or two. Maybe he'll be able to play on Team Kardashian? Kris obliges, and calls the world's first and only endangered human, Jonathan. Jonathan picks up immediately and says that he'll be in Miami the night before Family Feud for a Foodgod event where he'll be eating dozens of burgers. But he'll fly overnight and make it to the appearance if they get him a flight. Kim and Kris agree. Kourtney pays little to no attention to this conversation, because it doesn't matter at all. Why? Well, this scene was filmed on March 14, 2018, over two weeks after the family filmed Family Feud on February 24.
Scene 12:
NYFW escapee Kendall Jenner and the Calabasas Town Cryer, Kourtney Kardashian, let off some steam by riding horses. Kendall, who rides horses regularly is obviously a natural, but Kourtney, who hasn't ridden in years, needs some help.
No matter how good you look, I'd advise against anyone in the homestretch to 40 to hop on a horse for the first time in decades. It just doesn't seem like a necessity at this point in one's life. Kourtney, as she does often, persists, while being led by a coach. Once the sisters finish their vastly different riding experiences, Kendall asks Kourtney about her drama with Scott, Sofia, and their kids. Kourt says that things are pretty much patched up because she's been able to see Scott's side of things a bit more clearly. What's also been helpful is their co-parenting therapist, who makes sure they talk to each other pretty clinically and from only their personal perspective. Now, Kourtney understands that Scott is allowing Sofia into the kids' lives because he's happy with her and he wants the kids to see that. Kourtney's fine with this, and has chosen to move on. What she can't move on from, though, is the extremely long gray hair Kendall found and pulled from her scalp at the beginning of their conversation. This update on the decade-long Scott/Kourtney are fighting story line was filmed on January 21, 2018.
Scene 13:
Family Feud day has finally arrived and in a shocking twist, Kim has asked too many family members to be a part of the show and she's looking to bounce someone from a team. Kim wrongfully assumed that her grandmother MJ would not make it to the taping, but to her surprise, she made it, and in full hair and makeup to boot. The same goes for living roadkill Jonathan Cheban.
Showing up without a full glam beat, Jonathan is ready to get his one dying wish, a spot in the Kardashian family. But both he and MJ can't be a part of the family's team — one of them needs to be cut. Khloé is adamant that Kim tell Jonathan that he won't be a part of their team because their actual blood relative, and grandmother, will be playing with them. Kim doesn't feel comfortable doing this because she asked Jonathan to fly from Miami just to do the show. Khloé doesn't think that's a valid enough reason to keep him on their team, and even as Kendall agrees that MJ should play, their request falls on deaf ears. Like Kim, Kris is fine with Jonathan playing in the place of her own mother MJ, because he took a flight. It's not like he lived almost nine decades and is patient zero for the Kris Jenner bloodline, like MJ.
As the family runs around trying to figure out how to turn 11 people into two teams of 5, Kris and Kim ask CiCi, their cousin, if MJ really wants to play. CiCi tells them that MJ is saying she doesn't want to, because that would make things easier, but deep down she really wants to do the show. Kris still doesn't believe CiCi, so she talks to MJ for herself. Kris chastises MJ for agreeing to do the show so late in the game, despite knowing MJ would have made her decision that day anyway. So instead of being grateful that her octogenarian mother is healthy enough to stand in front of Steve Harvey for cash, Kris complains.
Leaving MJ, Kris finds her younger family members who are still finding some way to make this work. Khloé tells Kim and Kanye that Jonathan should play on their team since he's Kim's friend. Kanye, who speaks for everyone on the internet, says that he's not about to deprive one of his cousins of TV time for Jonathan. Jonathan is on TV all of the time thanks to the Kardashians, and he's a "big boy," says Kanye.
But then: Steve Harvey and his executive producers, for the first time in the show's history, agree to put six people on one team (allowing for both MJ and Jonathan to play). Until that moment, Kris and Kim fight to the death for Jonathan to appear on TV over MJ. Which, whew, chile, I've never seen something this offensive since the past weekend.
Once all was worked out, the family feuded and all was forgotten. This scene was filmed on February 24, 2018.
Well, Dolls, that's all my Lord and Savior Jesus Christ allowed for me to write this week, but I'll be back next week for another #KWUTKE recap of Keeping Up With Kanye Saying "For Jonathan?" In the meantime, be sure to follow KUWTKE on Instagram, America's safest space for continuity errors of the Kardashian variety.