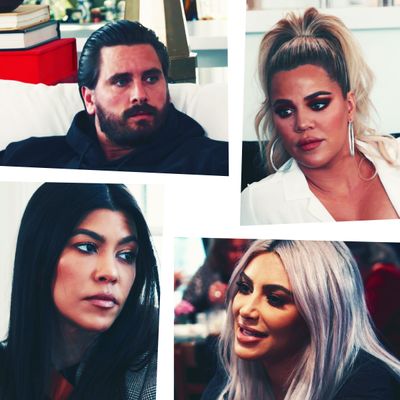 Photo: Courtesy of E! Entertainment
Hello, Dolls! This week on Keeping Up With the Kardashians, we took a trip to Chicago ahead of next week's Stormi weather, and that's the True-th!
On this week's episode our A-plot was Chicago's upcoming birth; our B-plot was Kim's inability to dance; and our C-Plot was Khloé's search for a legal guardian for her child. #LEGGO
Scene 1/Cold Open:
This week, the show opens with Kimberly Kardashian West visiting her pregnant sister, Khloé Kardashian, to help her fight a topical illness that's the leading cause of death among Kardashian/Jenner women under 90: stretch marks. Kim doesn't come bearing cocoa butter, coconut oil, shea butter, or any other topical ointment proven (on Pinterest) to prevent stretch marks — she comes with a cooler full of ingredients for homemade bone broth. Confused because she doesn't have any stretch marks yet (and why didn't Kim just buy the broth in a can "like Kourtney?"), Khloé still helps Kim put the concoction in a Crock-Pot. And even though the recipe seems fairly simple (put all of the ingredients into the pot, and let it sit for six to eight hours), Khloé and Kim have a hard time getting this done. First, they can't stand the sight of the chicken feet (Khloé compares them to a child's hand), and second, Kim gets tired and forgets to plug the Crock-Pot in. Which may be a good thing. This scene was filmed on November 9, 2017.
Scene 3:
Kim, along with her disservice animal Jonathan Cheban, attends a doctor's appointment with her gestational carrier. The gestational carrier, whose name is never given and whose head is cut off in every shot, is nearing the end of her pregnancy and experienced cramping and pains the night before. The trio are at the doctor to make sure everything's okay.
Kim's anxious about something else too: Kylie apparently called her and said that she thought she'd go into early labor because her baby's head was resting on her birth canal already. Kim absolutely didn't want Kylie to deliver before her gestational carrier, because her due date was later, and because she wanted Jonathan's "good luck" not to have worn off. According to KKW and Foodgōd legend, he's been "accidentally" been in town when Kim went into labor with her previous kids — and the gestational carrier's labor pains have made them think he'll be in town for this kid, too. Before getting the full scoop on how her gestational carrier's pregnancy is progressing, Kim and Jonathan dip because Kim has another appointment. This scene was filmed on January 12, 2018, two days before Kim's gestational carrier's due date, the 14th, and three days before Chicago's birthday, the 15th.
Scene 4:
Khloé, clad in a skintight white maxi-dress and sheer, business-casual crop top, invites Sofia Richie's future ex-boyfriend into her home. Since she's super pregnant, Khloé's been finalizing preparations for her baby girl's birth, and one big thing on her to-do list is figuring out who will be the legal guardian of her child should she and Tristan both die. She tells Scott that Tristan wasn't interested in having this conversation because he feels Khloé shouldn't be worried about such morbid things. But because Khloé has had a parent die, she knows it's a possibility and wants to be as prepared as possible.
Scott completely understands, mentioning how he was absolutely against this conversation when he and Kourtney had Mason because he had never lost anyone, but now after losing both parents he understands how necessary it is to be prepared for the worst. Comforted by Scott's understanding, Khloé goes on to explain that the other hurdle in this conversation is picking between Kourtney and Kim as her daughter's legal guardian. She's seen both sisters as parents, but she doesn't know which parenting style she prefers. This scene was filmed on February 7, 2018, over two months before True's birthday on April 12.
Scene 6:
At lunch, Kourtney, Kim, and Khloé discuss the joy of all-day breakfast and baby names. Specifically, the sisters discuss Kim's baby-name dilema: Kim's been thinking more about names because her gestational carrier recently had a delivery false alarm, and Kim realized that she didn't have an overnight bag packed, let alone a baby name. Now she's scrambling to think of one.
Kourtney, completely serious, suggests "Cruella," cities like "Milan," Biblical names like "Chloe," or their grandmother's name, "M.J." Kim hates all of the options, but knows that she really wants a one-syllable name. All of this name talk reminds Kourtney of a recent conversation she had with her now ex (most likely) boyfriend Younes, who had no idea Reggie Bush and Ray J were two different men. I guess when being grilled on the origin story of the sisters' fame, he couldn't differentiate between Reggie and Ray J due to an accent barrier? Kim barely finds this funny. This scene was filmed on January 9, 2018.
Scene 7:
Kourtney Kardashian has been recruited by Larsa, from the house of Pippin, to attend a private hip-hop dance class. Larsa's also invited Kim, and Everybody's Favorite Best Friend Malika's stand-in, Khadijah, to join them. Khadijah has come on time and in her finest streetwear while Kourtney comes late and in a full Gucci look, including heels. Kim, on the other hand, comes later than everyone else, while wearing the only sweats that would hinder a workout (Yeezy Season 6) and heels. Kourtney claims that she intends to dance in clubs in heels, so heels made sense for her personal hip-hop dance journey. As the gals cycle through a series of mild booty pops and bent-arm movements, Kim offers up critiques and advice, from the floor. Refusing to participate, Kim quotes Cardi B in the driest way possible, saying, "I don't dance, I make money moves." She also says she'd be a great stage mom because she has a lot of notes for the ladies. This dance session was also filmed on January 9, 2018.
Scene 12:
Fed up with Kim's decision to never dance, Kourtney's organized an event for Kim not to dance at: a flash mob. Earlier in the episode, Kourtney and Khadijah were taught a simple dance to the Pussycat Dolls' "Buttons." Led by a professional flash-mob company, they perfected the little leg movements and hip shakes to surprise Kim! The plan is that Khloé will take Kim to get ice cream at an outdoor mall, and then walk around a bit. Then, Kourtney and Khadijah (Kendall's only signed up for the rehearsal not the real event) will join a flash mob of strangers to surprise Kim. How their dancing and personal embarrassment will inspire Kim to begin dancing is not addressed, and I suspect it never will be.
Khloé does as she's told, and after each sister grabs a scoop of ice cream, Kim calls Khloé "adventurous" for wanting to take a stroll around the mall. This is when Kim knows something must be up, because there's no other way these two megafamous stars would aimlessly stroll about a mall without a reason. Once Kim sees the flash mob, plus Kourtney and Khadijah, she immediately becomes embarrassed and can't stop giggling. And even though no one invites her, she keeps saying that she just can't join them! Khloé hops in for a little one-two step with the crowd, but then quickly exits. This scene was filmed on January 11, 2018.
Scene 14:
After solving the Kim Dancing Issue, the sisters solve the Who Will Legally Care for Khloé's Baby in the Event of Both Her and Tristan's Death? issue. After much thought, and advice from Kris (who said that Kourtney values religion and God more in her parenting, while Kim values homework help and clean looks), Khloé's made her decision. She's decided to go with Kim, only because she assumes that her parenting style will be as strict as Kim's. (Never does she mention that Kim's children are also interracial …)
Kourtney's not pressed, though, because she's changed the legal guardian of her kids so many times she barely knows who they'll go to if she and Scott die. Plus, she thinks the joke is on Khloé — personally, she rescinded Kim's guardian privileges because she disagrees with her sister's "core moral values." Khloé's big decision was made and this scene was filmed on February 20, 2018.
Scene 15:
With her hair braided in the most problematic style since, well, her last problematic style, Kim can finally introduce her baby girl Chicago to her family and the world! Born just days after the doctor's appointment in Scene 3, Kim shows off her newborn to Kris, M.J., and Khloé. They fawn over Chicago's sweet little face and "mean" looks. Kim's over the moon, and so happy that none of her fears of not connecting with the baby came #True.
She's also grateful that she got both the baby and banging body, and would recommend having a gestational carrier to anyone. M.J., impressed with how people do it nowadays, asks to take a photo of Kim's body because it's just remarkable that she looks the way she does with a newborn. This scene was filmed on January 30, 2018.
Thanks for joining me this week, Dolls! I'll catch ya next Monday for another #KUWTKE recap of Keeping Up With in the Event of My Death! Also, remember to follow @KUWTKE on Instagram!