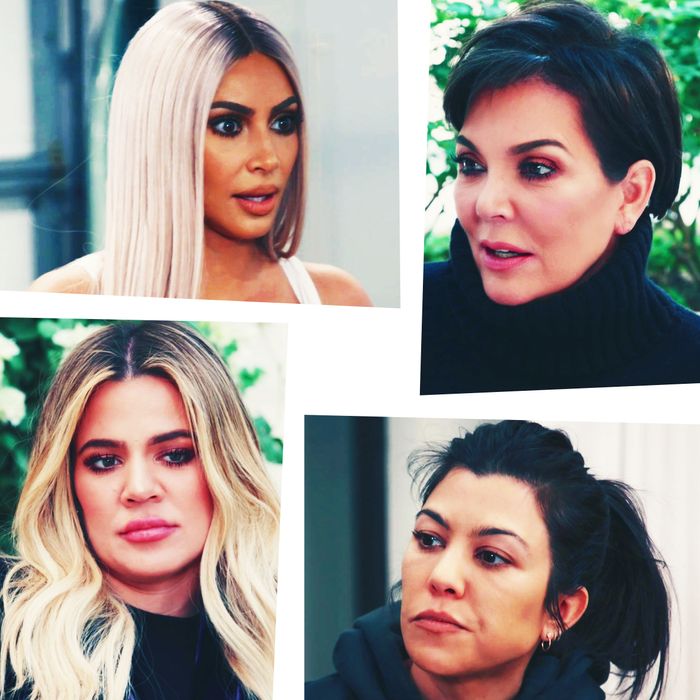 Photo: Courtesy of E! Entertainment
Last night's episode of Keeping Up With the Kardashians, explored life, death, and my wit's end. Lord have mercy on my and Gabbana's souls!
Our A-Plot was Stormi's impending birth; our B-Plot was Khloé's dog Gabbana; and Cur c-plot was Kourtney's relationship with Kris. Now #LEGGO before we encounter another sweet elderly dog.
Scene 2:
In one of Khloé's backyards, she entertains her older sisters Kim and Kourtney with tricks from her elderly dog, Gabbana. As they watch Gabbana chase balls, Khloé and Kim try to remember just how old this canine is. Khloé muses that the dog must be 13 or 14, but after some mental math, Kim thinks she's closer to 12 or 13 considering Kim was 24 or 25 when they got Gabbana. Then, in a twist, Kim realizes she was closer to 23 or 24 so Gabbana must be 13 or 14 like Khloé originally said. Which Khloé of course points out. As the sisters watch Gabbana, they reminisce about Gabbana's impact on the family. First, she was the childhood dog of Kendall and Kylie, but once they grew up, Gabbana became more of a family responsibility, though she lived with Kris and Caitlyn, and then when those two divorced, Gabbana went to live with Khloé. While Khloé's been her primary caretaker for the past few years, she holds a special place in the hearts of each family member.
After a few rounds of fetch, Khloé stops the games because Gabbana gets a bit too wild for her age and previous hip surgeries. Khloé remarks how worried she gets over Gabbana's labored breathing and limping after she runs around nowadays. This sweet, sweet scene of the sisters professing their shared love of Gabbana was filmed on January 17, 2018.
Scene 3:
Grandmother to the stars Kristen Kardashian takes one of her pregnant children shopping for baby items at family-favorite Juvenile Shop. The baby boutique with one "L" has been around since the '70s — when Kourtney was born in 1979, it was where Kris and Kourtney's paternal grandmother picked out her crib. Since then, Kris has gotten every one of her children's and grandchildren's must-have baby items from the store.
As they shop, Kris tells Khloé that it's bittersweet being there because she thinks fondly about her "firstborn," Kourtney, and how precious those first few months were with her. But now, Kourtney has been "so mean" to Kris without reason. Between picking out onesies and toys, Kris and Khloé wonder why Kourtney has such an issue with Kris, when Kris has been nothing but kind. At the checkout counter, Kris buys all of Khloé's goods and tells Khloé that when she's on this same sort of shopping trip for her baby girl, she'll understand. This scene was filmed on February 21, 2018.
Scene 4:
At Khloé's, the Kardashian's leading player, Kimberly — in the most culturally violent braids of the century — arrives to interrupt Khloé's day. Doing nothing but dancing about Calabasas to advance story lines, Kim tells Khloé about "a game" she loves to play. That game is essentially laughing at people speculating about Kylie's pregnancy and seeing if anyone ever gets a true #bump pic.
This particular morning, the media made a big move that made Kim's game even more fun. At 6 a.m., Kim saw photos of Kylie posted on TMZ, but luckily for Kylie, she was only photographed from the front and looked super "skinny" and not pregnant. Amused, Kim called up Kylie and Travis, who thought it was an emergency because she called them at 6 motherfucking a.m., and they really didn't care. Kim, however, is still giggling, and hopes someone will care because she needs this story line.
After Kim's played her game, she helps Khloé sort through random bags of baby clothes. Kim tells Khloé that she'll eventually pick out a "style" for the baby, so many of these items won't even matter. After passing on a ruffled/wrinkled mustard-colored peasant frock that just screams Penelope to both of them, Khloé and Kim argue over two pairs of absurdly small tights. Khloé can't imagine how they'd even fit a newborn as they're so stiff and tight, but Kim says she used them on North for freezing cold days. They'll stretch, Kim promises, but Khloé is set on tossing them as they resemble Spanx, but for infants. This scene was filmed on January 30, 2018, which was five days after TMZ posted photos of pregnant Kylie and just two days before Kylie gave birth to Stormi on February 1.
Scene 5:
Along with her shadow Larsa Pippen, perpetually free Kourtney visits Khloé, who's actively working on a photo shoot for Good American. Before she can hold Kourt with KoKo, Kourtney hugs and chats with some of Tristan's friends (who seem to spend more time with Khloé than they do looking after their boy and making sure he gets his daily dose of keeping his dirty dick in his pants).
Once Kourtney and Khloé meet up, Kourtney dives into recapping a recent therapy session where she realized that her mom really fucked her in "so many ways". Khloé, knowing Kris and Kourtney have always had a sort of tense relationship, is still shocked at what Kourtney's saying. Kourtney explains that she grew up having issues with betrayal because Kris cheated on their father, Robert Kardashian. Khloé asks if this is why Kourtney is mean to their mom, but Kourtney claims it's not that she's mean to Kris, it's just that she doesn't go to Kris with any personal issues. Khloé agrees, and adds that Kim and Kylie are really the only ones who go to Kris for advice, which is peculiar considering they're the richest and most famous of the bunch. This scene was filmed on September 7, 2017, over a year ago.
Scene 6:
Khloé visits her mom Kris at her home. Kris, enjoying some outdoor time, admires Khloé's jewel-toned jacket, and both mother and daughter bask in the crisp air. Khloé says it reminds her of Cleveland, and Kris agrees. Kris even says that Cleveland is becoming her new favorite place on account of the weather and Khloé's gorgeous and relaxing view. Kris also loves that it's nice enough to lure Kourtney there. She's surprised that her eldest daughter traveled to such a modest place.
Now that Kourtney's been mentioned, Khloé asks her mom about Kourtney's recent struggles. Kris tells Khloé that Kourtney has some anger inside, but she can't understand why — her childhood was nothing short of perfect. After Khloé brings up a great point about Kourtney always choosing her dad's side when it came to her parent's divorce, Kris wishes Robert were still around to reassure Kourtney that her childhood years were amazing. Kris then tells Khloé that everything will work itself out because life is "cyclical," and Khloé's floored that her mom used such a smart word. Kris also shows Khloé a scar Kourtney gave her from clawing Kris's hand as a teen. This scene was filmed on November 8, 2017.
Scene 8:
The family's enemy, Kourtney, hosts dinner and her roast. While feeding her youngest child, Kourtney is called away by Khloé, who's sitting with Kris, who is largely silent as Khloé explains to Kourtney why she needs to cut the shit and be nicer to their mom. Both Kris and Khloé think that Kourtney's memories of her childhood don't align with the truth. Kris then chimes in to wrongfully accuse Kourtney of behaving much like she did back in the day. She tells Kourtney that Kourtney has her own "Todd" — most likely referring to Todd Waterman, the man she cheated on Robert Kardashian with. Kourtney can't even begin to make the connection because, as she tells Kris, she's not cheating on anyone and she's not married. Kourtney goes on to explain to Khloé that they all have different experiences with Kris, so she can't really tell her how to feel. This scene was filmed on January 30, 2018.
Scene 10/Scene 11:
In scenes that left me wailing like a newborn, Khloé's dog Gabbana dies. Khloé, in her confessional, says that after a long day of work she came home to Gabbana, who couldn't move. In cell-phone footage from that night, Khloé is seen petting and talking to Gabbana who just looks so down and tired. Scared, Khloé calls for her assistants to help take Gabbana to the vet. It's there that the doctor told Khloé that a mass had grown on Gabbana's heart and that she had a fast-growing cancer. She wouldn't have long, he said, and recommended putting her down.
For anyone with a dog, or anyone who has ever loved a dog or has seen Marley and Me, the emotional pain of losing a pet is almost too much to bear. A message from me to E!: If I wanted to be this sad between 9 and 10 p.m. ET on a Sunday night, I would have asked that you play Ashlee Simpson and Evan Ross's show!!
The following day, Kim and Kris visit Khloé. While Kris and Khloé are in Grief Chic black, Kim wears the factory scraps from Yeezy and those dirty-ass braids. Khloé is sad, but happy she got to hug and kiss on Gabbana before she was put to sleep. Kim, who's never been a fan of dogs, said she cried hysterically when she found out, and Khloé said that Kendall was devastated. This scene was filmed on January 30,  2018.
Scene 14:
In the midst of a workout, Kim is interrupted by Kourtney Kardashian. She proclaims that Kylie is in labor, and in the same breath asks Kim why she's not there. Kim, stopping her workout, tells Kourtney that she was supposed to be there, but her phone's not on her. Kourtney then tells Kim that Khloé should be in the room with Kylie and if Kylie really wanted Kim there, she'd be there now.
All of this is done behind smirks and a blonde wig affixed to Kimberly's head. Why? Well, it's not that the sisters are auditioning for Juilliard's adult-education acting program — it's because this scene was filmed on or around May 24, 2018. You see, Kylie's pregnancy, with the exception of Scene 4, was not mentioned on camera until after she had the baby. Plus, Kim's in a wig; Kourtney's in her spring, metallic, punk, monochromatic look; and Kim spent the day of the 24th filming confessionals with Kylie and pretending that she sewed that blonde pet to her head for Kanye and their anniversary.
Scene 16:
After Kylie and Kourtney delivered their babies and emotions, respectively (Kourtney told Kris she wants to move past her mom's cheating ways and leave the past in the past), it's time for the family to break bread at Kris Jenner's. But before the meal can begin, Khloé gifts Kendall with a Gabbana paw-print necklace, unwrapped. Once they sit down to eat and are joined by Mason, a random boy, Scott, Corey (you'll see he's the chocolate blur in the lower left corner of the second pic, I assure you it's not a Milk Dud, it's Corey Gamble), Kourtney and Kris, Kylie and Stormi enter.
To much excitement, Kylie walks Stormi around the room to kiss each family member, but when she gets to Kim, Stormi gives her the side eye. Kylie says that's because Stormi's still mad that Kim was her first kiss. Apparently, days after Stormi was born, Kim kissed her on the lips and jokingly said that she was the first to do it — and as it turns out, she was. With babies on her mind, Khloé announces that she's finally going to get rid of Gabbana's bed, and trade it in for a crib. She's thankful that Gabbana knew to leave her at a time when she'd have the best companion of all coming her way, a baby. This scene was filmed on March 12, 2018.
Thanks for joining me this week, dolls. We have seven days to dry our tears from last night's episode, so join me next Monday for another #KUWTKE recap of Keeping Up With RIP GABBANA! #Gabbana4Ever