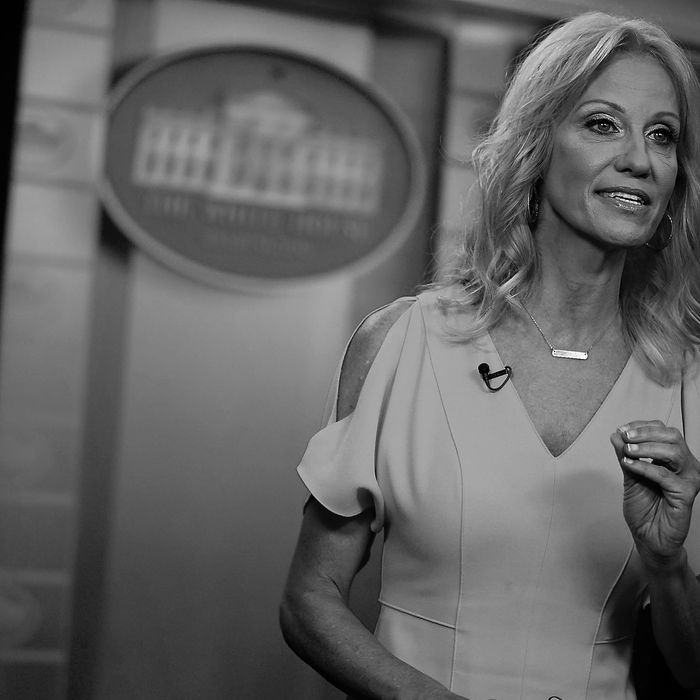 Kellyanne Conway.
Photo: Alex Wong/Getty Images
Kellyanne Conway disclosed to Jake Tapper that she was a victim of sexual assault on Sunday morning's State of the Union. She was on the show offering statements of support for both Supreme Court nominee Brett Kavanaugh, who is accused of sexual assault, and the survivors of sexual assault.
"I am empathetic, frankly for victims of sexual assault, sexual harassment, of rape," Conway said, before clearing her throat. "That — I am a victim of sexual assault."
"I don't expect Judge Kavanaugh or Jake Tapper or Jeff Flake or anybody to be held responsible for that. You have to be responsible for your own conduct," she continued.
She then went on to chastise Tapper and CNN for comparing Kavanaugh with Bill Cosby, who was sentenced to three to ten years in prison for assaulting multiple women.
Tapper tried to redirect the conversation to her disclosure, especially because she works for Donald Trump, who recently called the women who accused him of sexual assault "liars."
"Don't conflate it with what happened to me, it'd be a huge mistake Jake. Let's not do it," she said. "Let's not always bring Trump into everything that happens in this universe. That's mistake number one."
Conway did not reveal any further details about her assault, and redirected the conversation back to the political partisanship of the Kavanaugh confirmation hearings.