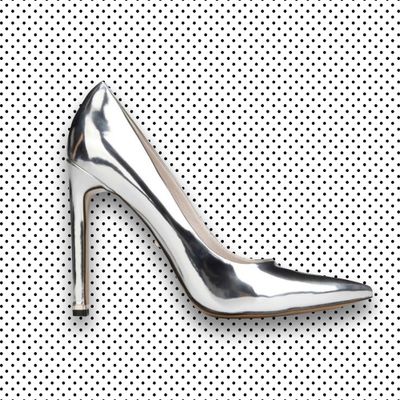 The Riley in silver.
Photo: Courtesy of the Retailer
If there's one thing to know about heels it's that they're uncomfortable. Even if someone swears they've found a comfy pair, it probably means they've found a style that's slightly less hellish. But, Kenneth Cole has figured out a way to make stilettos more tolerable, no matter how much you stand, walk, or go bowling a la Mariah Carey. Meet the Riley.
The Riley is the latest in the brand's Techni-Cole (get it?) footwear range. It uses their "Rebound System" to achieve maximum comfort. Special features include a rubber-injected sole to provide "sneaker-like flexibility," and memory foam layers in the insole, ball area, and around the heel. Those added bits lend support to where you tend to experience the most pain and blisters. The shoes comes in three heel heights (from 2 inches to 4 and 1/3 inches) and a range of styles, colors, and materials. Some personal favorites are the metallic pump and the classic black slingbacks — the ideal for work or play.
Shop the collection below.
If you buy something through our links, New York may earn an affiliate commission.