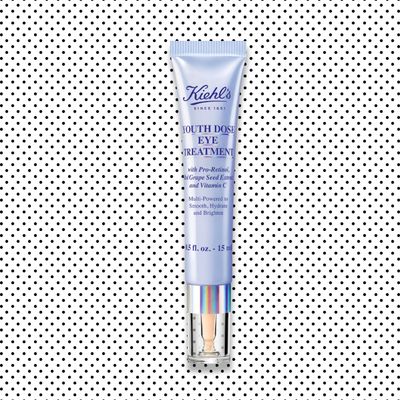 Photo: Courtesy of Kiehl's
Have you ever wanted to relive the "glory days" of your youth? You know, the ones where you were frantically studying for the SAT, stressing out about getting a prom date, and wondering what you were going to do for the rest of your life? If that sounds stressful, don't worry. Time travel doesn't exist. But if you want a little help looking more well-rested without having to navigate the space-time continuum, here's a new eye cream to try: Kiehl's Youth Dose Eye Treatment.
This particular eye cream is allegedly special because it's designed to give immediate brightening results. This is nice because eye creams can be a bit of an investment, both financially and also in waiting to see any tangible results. This one focuses on three main ingredients: Pro-retinol, red grape seed extract, and Vitamin Cg. There's your skin care BFF, retinol, which helps diminish fine lines. The micronutrient polyphenol from red grape seed extract allegedly boosts brightness, which reduces dark under-eye circles. Vitamin Cg (a real version of Vitamin C and not a typo) improves texture and smoothness.
You are supposed to use this every day and every night. Is it going to give you a full-on Benjamin Button effect? Hopefully it's not quite that dramatic. But maybe it could potentially take your delicate eye skin back to a time when it didn't have to navigate taxes or insurance.
Photo: Courtesy of Kiehl's
If you buy something through our links, New York may earn an affiliate commission.