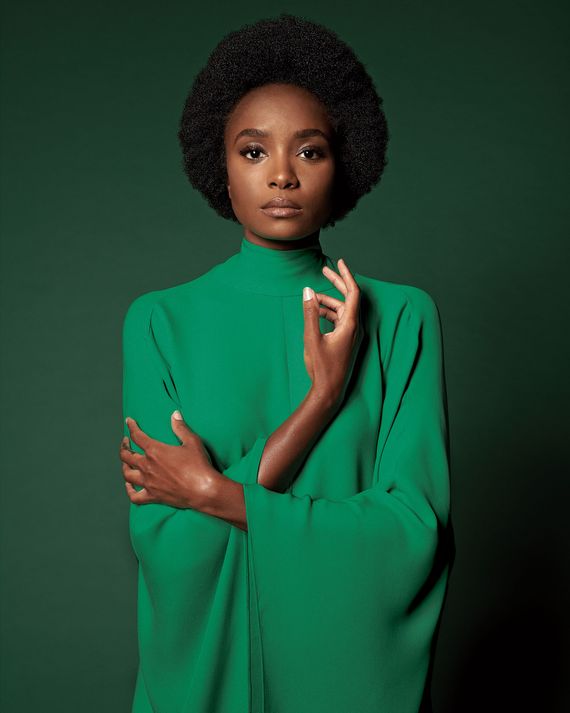 KiKi Layne.
Photo: Amanda Demme
If Beale Street Could Talk is something of a James Baldwin deep cut, less widely read than, say, Another Country or Giovanni's Room. The 1974 novel is set in a restless Harlem that feels a bit like a small town and tells the story of a young couple: a 19-year-old named Tish, who finds out she's pregnant by the man she's not quite yet married to, Fonny, after he's arrested for a rape he didn't commit but seems certain to be convicted of. But Beale Street's relative obscurity is about to end, along with that of 26-year-old actress KiKi Layne. Barry Jenkins has adapted the novel into a movie, his follow-up to the Best Picture winner Moonlight, and cast Layne as Tish.
"For me, Tish and Fonny's love was the draw," Jenkins says. "It was just so very pure. I'd never read anything quite like it." He wrote the screenplay without even owning the rights to the book — "I wasn't beholden to actually making the thing. The value was in setting aside time to write it at all," he says — but after Moonlight, everything fell into place. Which meant finding the right Fonny and Tish.
Jenkins found his Fonny first: Stephan James, who'd starred as a young NHL hopeful in Across the Line and as Jesse Owens in Race. But "it was quite difficult to find Tish," Jenkins says. "I didn't have an image in my head of who she was. There wasn't an actress I saw as I was writing her, which happens sometimes. The gift of Baldwin was that Tish could be so many different women."
Jenkins auditioned 300 actresses before entrusting Tish to Layne, who had never been in a movie before, much less played the lead in one that will be scrutinized for Oscar potential. This might intimidate some actors, but Layne is too dazzlingly positive about just about everything, it seems, to get bogged down in self-doubt. The way Layne looks at it, Tish's arrival in her life was providential, the perfect role at the perfect time for her. No, she had not read the actual book, but as soon as she saw the description of Tish, she said to herself: That's me! "Something just kind of jumped in me when I read it," she says.
Layne grew up in Cincinnati, where, at 7, she declared that she wanted to sing and act, so her mother found out how to enroll her in the city's performing-arts high school. She studied acting at DePaul, where one of her classmates was Ashton Sanders, who played the middle Chiron in Moonlight. She stayed in Chicago after graduation and worked her way into the theater scene. Then, because "I didn't want the scraps" of an acting career in Chicago, she resolved — so abruptly she almost forgot to call her mother to tell her she was doing it — to move to L.A., where "the big dogs are."
That was last July. Not three months later, she was up for the role of Tish. "I remember telling my mom, 'If I can just get in the room, they'll know,' " she says. "So when I got the chemistry read, I was naturally freaking out, and my mom just reminded me [of what I'd said]. So I got in there and thought, This was meant for me."
The room felt her confidence and her talent. "I just remember they kept offering me water," as a courtesy, "and I kept turning them down. Barry eventually was like, 'She don't need no water. She's not thirsty, she hungry.' And I said, 'Yes, I am. I am very hungry for this opportunity.' "
The hardest part of playing Tish, pregnant, with her family trying to help her, as she tries to save Fonny, was that "there was this tenderness and vulnerability about her," which are not emotions Layne usually wears on her sleeve; too much sweetness and emotional dependence get in the way of any hustle. "But once I got comfortable being in a place where all these people around me are taking care of me, letting yourself love and being loved … it was a challenge, but that was the most satisfying thing for me."
It's also a story that, because of the brutal way Fonny is treated by the criminal-­justice system, has resonance for any person of color 44 years later. "It makes you question just what has to happen for progress," Layne says, sighing. It's the one non-upbeat moment in our conversation.
"Tish is a young woman faced with extraordinary obstacles who rises to the occasion," says Jenkins. "There are women who do this in some capacity every day, facing some great burden society has placed upon them yet continuing on, building a life where only doubt and despair seem capable of taking root. It's not that we need examples to recognize the possibility in our own lives. But seeing someone conquer the burdens before you? I don't know that there's ever been a bad time to see or hear that."
If Beale Street Could Talk will be in theaters on November 30.
*This article appears in the September 3, 2018, issue of New York Magazine. Subscribe Now!