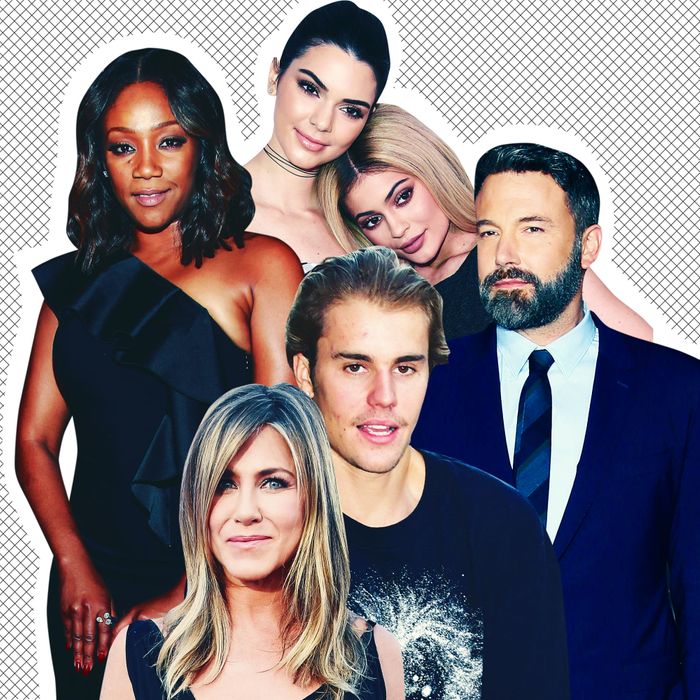 One year ago this week, we started a gossip column at the Cut to follow the breakups, makeups, and other assorted scandals of the rich and famous. To celebrate this milestone, we've put together the best stories from the last year featuring some of our favorite characters: Ben Affleck, Justin Bieber, Jen Aniston, Tiffany Haddish, the ever-expanding Kardashian family … If you haven't been keeping up with our weekly updates (it's fine), now is the perfect opportunity to catch up. Let's go back in time and celebrate the year that was.
It's hard to believe that this time last year, Ben Affleck was reportedly "drinking water" with his new (-ish) girlfriend Lindsay Shookus at the Emmys. On September 17, 2017, Shookus, an SNL producer, took home an award with her colleagues, and the couple celebrated at HBO's after-party with Larry David and Jeff Garlin. In the months that followed, Affleck seemed mostly stable (amid many iced-coffee outings, there were a couple of suspicious trips to a Maine liquor store). In October, multiple women accused him of groping them at industry parties and even during interviews, and he weathered that just fine after issuing a half-hearted apology to one of the accusers.
His relationship with Shookus seemed solid, if a little static. Shookus reportedly never met Affleck's children (Affleck's estranged wife, Jennifer Garner, wouldn't allow it) and multiple tabloids insisted that Affleck wasn't interested in getting married again. Still, Shookus was apparently fine with the arrangement: A source told ET in June, "Lindsay feels he is worth the wait."
Then, last month, Affleck blew it all up. During the week of his birthday, he was photographed multiple times hanging out with a 22-year-old Playboy model named Shauna Sexton. As the photos began to surface in the tabloids, Shookus briefly deleted her Instagram account, and the tabloids reported her relationship with Affleck was over. Days later, paparazzi followed as Garner drove to Affleck's $19 million Pacific Palisades mansion, picked him up, and took him to rehab.
How's Affleck doing now? It's not clear if he's still in rehab full-time: He's been leaving the Malibu facility almost every day to "work out at home" and to see Sexton. Sexton has become a paparazzi magnet, spending her days driving Affleck's car, buying tabloids with her face on the cover, and walking a rescue dog named, uh, Lindsay.
Shookus, meanwhile, has avoided the paparazzi and has declined to discuss the breakup publicly. At the Emmys on Monday, she won another award for her work on SNL. She's apparently remained close with the Davids — this year, she hung out with Larry's cool daughter Cazzie David at the HBO party.
This time last year, David was dating Shookus's SNL colleague Pete Davidson. That relationship ended sometime in the spring, and Davidson, you've probably heard, quickly proposed to Ariana Grande with a $93,000 pear-shaped diamond in June.
The engagement started something of a trend: Shortly after Davidson and Grande confirmed their engagement, Nick Jonas proposed to his girlfriend of two months, Priyanka Chopra, and Justin Bieber proposed to his newly on-again girlfriend Hailey Baldwin.
If Affleck took a few steps backward this past year, Justin Bieber has moved full-steam ahead. In October, he reunited with his on-again, off-again girlfriend Selena Gomez, and the two spent the holiday season making out with each other in front of the paparazzi. This uh, disappointed some of Gomez's family members, who believed Bieber to be a bad influence. An unnamed family member told TMZ at the time, "Justin is a vile human and will never be accepted by us. As long as she is even speaking to him in any way, it is not only disrespectful to everyone around her, it is disrespectful to herself."
So! Things fizzled between Gomez and Bieber a few months later, around the occasion of Bieber's 24th birthday in March. Bieber didn't let the split get him down, though: He quickly reunited with his other on again, off again girlfriend Hailey Baldwin. Baldwin is the 21-year-old model daughter of Stephen Baldwin, and though she is very popular on Instagram, she does not like to be described as an "Instagram model." She does like to be described as Justin Bieber's fiancée, however! The two got engaged on a trip to the Bahamas in July and announced the news on Instagram a couple of days later.
Not everyone was happy about the speedy engagement. Bieber's longtime mentor and "second father" Carl Lentz, the lead pastor at the New York branch of the Pentecostal megachurch Hillsong, declined to congratulate the couple, and TMZ reported that Bieber and Lentz had a "major falling out" a few months before Bieber proposed to Baldwin. It's still not clear what prompted the fight, but we know that Lentz was offering "Christian couples counseling" to Bieber and Gomez before they broke up, so maybe he feels like Bieber wasted his time. Still, Bieber and Baldwin have continued to attend services at Hillsong in L.A., and they have spent time with Bieber's other pastor friends including Zoe Church's Chad Veach and Churchome's Judah Smith.
Just this past week, several tabloids reported that Bieber and Baldwin got married in a civil ceremony at a New York courthouse. Baldwin denied the story on Twitter at first, claiming "I'm not married yet," but she deleted the tweet after several outlets confirmed the marriage. A "religious source" told People this week that Baldwin made the claim she "feels a civil ceremony and their 'real' wedding are two separate things."
The "religious source" added, "They're going to have a big blowout, in front of God and everyone they love."
Who could this religious source be? Veach? Smith? Lentz? We'll find out when Bieber and Baldwin have their big Christian ceremony, which TMZ says is happening later this month.
Of course, when one celebrity couple finds (relative?) happiness, another breaks up. This past year, Channing Tatum and Jenna Dewan filed for divorce, Rachel Bilson broke up with her partner of ten years, Hayden Christensen (maybe because of Emma Roberts), and Gen Z's most dramatic pairing, Brooklyn Beckham and Chloë Grace Moretz, ended things for good. The most high-profile divorce, however, was the one between Jennifer Aniston and Justin Theroux.
If it was a divorce at all. Aniston and Theroux announced their split back in February, and since then, the tabloids haven't reported anything about a divorce filing. The couple had a big blowout wedding at Aniston's Bel Air mansion in 2015, but TMZ reported in February that there is no evidence they ever got a marriage license. So the whole thing may have been … just for fun? The site does note the couple could have obtained what's called a confidential marriage license, but it would have had to have been outside L.A. County, according to records.
That's not to say there weren't some hard feelings when the relationship ended, however. As soon as the split was announced, Theroux's friends went straight to the tabloids to tell the world how happy Theroux was to finally be free of Aniston's boring, L.A. lifestyle. He quickly moved back to New York, which is "edgy," like him. There were rumors he was dating the fashion photographer Petra Collins, which was scandalous, because Collins is close friends with Selena Gomez, who is close friends with Aniston. Then there were rumors he was dating Aubrey Plaza, and then there were more credible rumors he was dating Emma Stone. Stone and Theroux were spotted leaving the Met Gala together in May, and they later traveled to France together for Louis Vuitton's cruise show. (Both are ambassadors for the luxury brand — so edgy.)
Aniston, meanwhile, has seemed to stick to her routine. She filmed a Netflix movie with Adam Sandler this summer in Italy, and she showed up to Netflix's Emmys party this past weekend. In August, she appeared on the cover of InStyle, ostensibly to talk about her breakup with Theroux, but the interviewer was her close personal friend Molly McNearney (who is married to Jimmy Kimmel), so she didn't end up revealing much. Earlier this month, People reported that Aniston "doesn't even talk about [Theroux] anymore," and that "she is focusing on her own life." And saving a lot of money on a divorce attorney, perhaps?
And now, some superlatives.
BEST BLIND ITEM: We at the Cut very much enjoy reading the blinds at Enty's site Crazy Days and Nights, but sometimes the best items come from the celebrities themselves. Remember the explosive bit of gossip the expert storyteller Tiffany Haddish told Caity Weaver for a GQ profile in March? Someone bit Beyoncé. Take a moment and read the whole thing again.
BEST UNSUBSTANTIATED RUMOR: In January, "Page Six" reported one of my favorite stories of the past year. It was: January Jones was dating former Bachelor star Nick Viall? Apparently he had his publicist reach out to her, and they had a drink, and then they started dating and she invited him to her 40th birthday party. Neither Jones nor Viall ever confirmed the relationship, and it doesn't seem like they are dating now, but I really enjoy knowing that this may have happened.
BEST CONTRIBUTION TO GOSSIP BY A SINGLE FAMILY: In the past year, Kim Kardashian West, 37, Khloé Kardashian, 34, and Kylie Jenner, 21, all brought beautiful baby girls into this world. Kim's news broke first: TMZ discovered that she hired a surrogate to carry her third child with Kanye West in July. Then, in September, the tabloids reported that Jenner, who had just turned 20, was pregnant with her first child with boyfriend Travis Scott. Jenner did not address stories about her pregnancy until she gave birth to her daughter, Stormi, in February, so rumors about it dominated the tabloids for months. And just when you thought things were settling down, TMZ and the Daily Mail reported in April that Khloé's boyfriend Tristan Thompson was cheating on her with multiple women, just days before she was scheduled to give birth to her daughter, True. No other single family contributed more to the gossip economy this past year, and for that, we thank them.
BEST CELEBRITY ADMISSION: In October, Vanderpump Rules star Stassi Schroeder somehow ended up at a dinner table with Larry David, where she told him she didn't know he had anything to do with Seinfeld. Then she told everyone that she did that!
BEST PAPARAZZI SHOT: Here is Orlando Bloom biking around Prague with his mini poodle, Mighty, in October.
BIGGEST BLESSING: Meghan Markle got married.
Thanks so much for gossipping with me this year. Next week, we'll be back with our regularly scheduled programming. If you have anything you'd like to chat about, feel free to email me at allie.jones@nymag.com, send me a message on Twitter, or contact me on Signal.