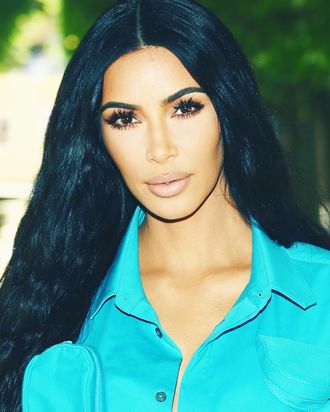 Kim Kardashian West.
Photo: Dominique Charriau/Getty Images
Kim Kardashian West is diving back into the murky waters of criminal-justice reform. In May, the reality-TV star visited the White House to speak to another reality-TV star, Donald Trump, to advocate for the release of Alice Johnson, a 63-year-old great-grandmother who was serving a life sentence without possibility of parole for a first-time drug offense. A few days later, President Trump granted Johnson clemency. Now, according to "Page Six," Kardashian West is back at the White House to advocate on behalf of Chris Young, a man who, because of mandatory sentencing regulations, was sentenced to life without parole in 2010 for possession of marijuana and cocaine.
"Yesterday, I had a call with a gentleman that's in prison for a drug case — got life. It's so unfair. He's 30 years old. He's been in for almost 10 years," Kardashian West said on an episode of Jason Flom's Wrongful Conviction podcast, set to air on Wednesday.
She also said she's been speaking with the man who sentenced Young to life in prison, former Tennessee Judge Kevin Sharp. Sharp, she says, then resigned because "he had never been on the side of having to do something so unfair, and now he is fighting [alongside] us to get [Young] out."
Kardashian West added that, as during her fight to free Alice Johnson, she has been working closely with the president's son-in-law and senior adviser Jared Kushner, who has been working on prison reform, and whom she says is "passionate" about the issue. (Kushner's father, Vanity Fair points out, was incarcerated for 14 months for tax evasion, illegal campaign contributions, and witness tampering that allegedly included sending his own sister, who was scheduled to testify against him, a video tape of her husband cheating on her. Kushner the younger has said he believes his father's sentencing was unfair.)
At the White House today, Vanity Fair reports, Kardashian West and Kushner will be participating in a "listening session on clemency and prison reform."
Currently, 2.2 million people are incarcerated in the U.S. It's the largest prison population in the world. The numbers of incarcerated peoples exploded, in part, following the harsh mandatory minimum drug sentences enacted under the Reagan administration — laws that disproportionately punish communities of color, and severely restrict judges' flexibility in sentencing. These are the same laws that sentenced people like Alice Johnson and Chris Young to life in prison, and the same laws that will continue to affect hundreds of thousands of people whose individual cases have not been taken up by celebrities with a direct line to the president until there is large-scale, systematic reform.