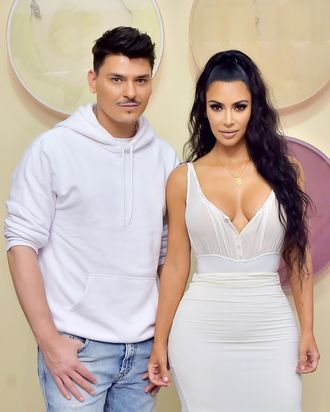 Mario Dedivanovic and Kim Kardashian West.
Photo: Stefanie Keenan/Getty Images for ABA
Mario Dedivanovic is the man responsible for turning some of the world's most recognizable faces into works of art. Ever heard of, say, Kim Kardashian West? He was the one who created some of Kim's most memorable looks and exposed contouring to the Instagram audience. For the past three years, he has been developing his own makeup line.
He's been biding his time for a variety of reasons. Firstly, he wants full approval over the line. Secondly, he believes the beauty market is pretty oversaturated with new releases at the moment. In an interview with Women's Wear Daily, he expressed that there's "so much unnecessary stuff" available today, which can be frustrating:
"Even if there's really good stuff coming out, it's probably overshadowed and you don't even see it or notice it because of all the stuff that's coming out. I'm totally OK waiting a little bit. Maybe this bubble's gonna burst, which I think people are afraid of, whereas me, I'm not afraid of that. If it bursts, it bursts. Maybe then it will be about quality and not quantity."
Good things typically are worth the wait, like a good romantic partner, a piping hot slice of pizza, or a one-of-a-kind makeup line that's been carefully crafted over several years. If you're a Dedivanovic superfan and need something to tide you over until he releases his own expertly crafted products, you can check out his collaboration with KKW Beauty.