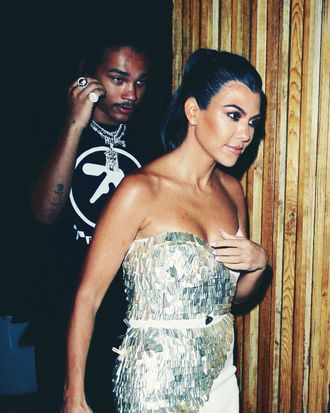 Luka Sabbat and Kourtney Kardashian.
Photo: SplashNews
Just over a month after her split from Younes Bendjima, Kourtney Kardashian appears to have a new, even younger model boyfriend. On Friday evening, the 39-year-old reality star was spotted dining with 20-year-old Grown-ish actor and model Luka Sabbat, with whom she apparently spent the entire weekend.
According to "Page Six," the pair started their weekend at restaurant The Nice Guy in Los Angeles before moving to the glamorous Chateau Marmont, where Sabbat was photographed with his hand on Kardashian's lower back. (Sexy!) While "Page Six" described the model as Kardashian's "friend," Metro reports that Sabbat was "very attentive and affectionate" with his dinner date.
But their weekend didn't conclude there. According to Metro, Sabbat and Kardashian both jetted to Chicago on Saturday morning, where the latter was attending the Midwest opening of her beloved nightclub, TAO. Following that appearance, the couple reportedly headed to the opening of Found hotel around 11:30 p.m., where they couldn't keep their hands off one another.
"[They were] loving on each other, sitting together, holding hands," an eyewitness told Entertainment Tonight, adding that they didn't leave until nearly 2 a.m.
If the dating rumors are true, hopefully Kardashian's new 20-something model boyfriend is less possessive and more faithful than Bendjima.