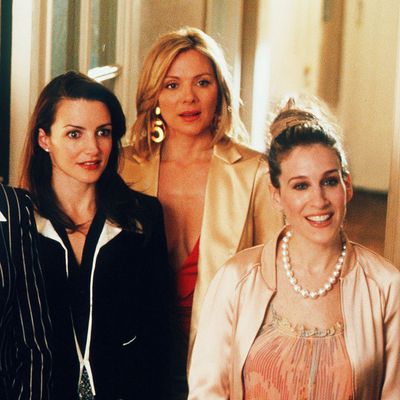 Sex and the City
cast.
Photo: Shutterstock
When Kristin Davis Instagrammed a photo of the Sex and the City cast without Kim Cattrall, we couldn't help but wonder, is she inserting herself in the long-standing Sarah Jessica Parker–Cattrall feud?
While rumors about Parker and Cattrall's beef have been circulating since the show ended in 2004, the fight escalated last fall over a very public disagreement about a third Sex and the City movie, and then again in February, when Cattrall told Parker that she didn't want her condolences following her brother's death. For the most part, Cynthia Nixon and Davis have stayed out of it, but the Emmy Awards throwback photo the latter posted to Instagram on Monday certainly reignited the spat — and seemed to suggest whose team Davis is on.
"Emmy flashback — super happy memories and wishing joy to everyone tonight," she captioned a photo of herself, Parker, and Nixon from the 2004 ceremony, when the feuding rumors first started, as Cattrall was present but chose to sit far away. "We are all so incredibly lucky to get to do what we do!"
Many Instagram users were quick to call out Davis's omission and accuse her of being petty, leaving comments like, "Without Samantha, SATC is pretty damn annoying." Another quipped, "I think we just saw the sequel of Mean Girls 2!"
There were, however, some users who came to Davis's defense, making the point that posting a photo with Cattrall probably would've done more harm than good.
"I'm sure if she included Kim in the picture, Kim would have started a war with her somehow lol," one person wrote. "Chill people. Don't tell someone what they CAN and CANT post."
But hours after posting the throwback photo, Davis Instagrammed a harmless photo of a flower with a caption about how she "didn't think too hard about posting that pick [sic]."
"Not intended to throw shade or exclude or anything really…" she wrote. "…. i guess it would be better to just post my pretty flowers i am growing in my garden."
Honestly, yes — if you want to avoid drama, posting a photo of flowers is typically a safe option. Or, even better, don't post at all.
This article has been updated.