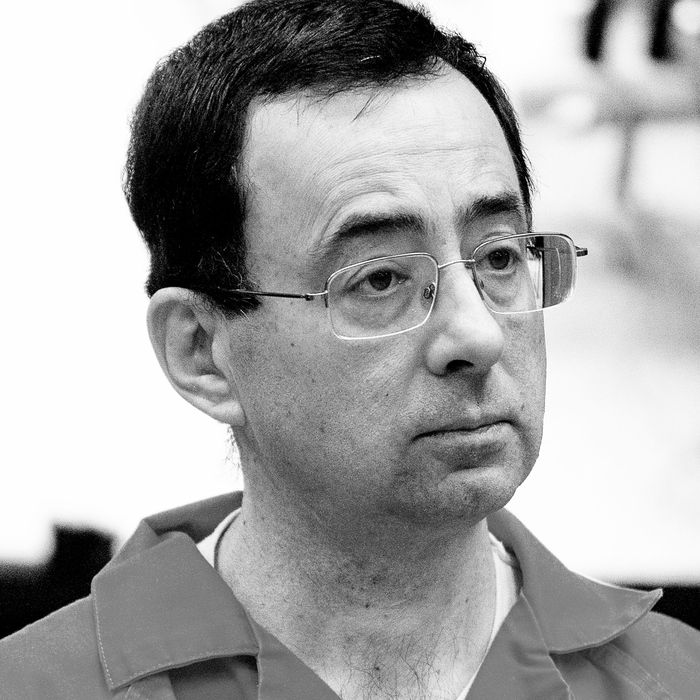 Larry Nassar.
Photo: RENA LAVERTY/AFP/Getty Images
A former Michigan State University athlete has accused Larry Nassar of drugging, raping, and impregnating her in a new lawsuit, nearly eight months after the disgraced doctor was sentenced to up to 175 years in prison for sexually abusing more than 140 women and girls.
In 1992, 17-year-old Erika Davis's field hockey coach sent her to Nassar, who was then working as the sports physician at MSU, for treatment after she sustained a knee injury. In her lawsuit, filed in a Michigan federal court on Monday, Davis claims that Nassar used both his hands and mouth to make her nipples hard, which he allegedly passed off as a breast exam, at the first appointment.
At the follow-up appointment, one week later — which Nassar allegedly filmed — Davis says that Nassar made her drink a crushed-up pill, which left her feeling "woozy" and weak. The lawsuit states that one hour later, Erika woke up "still in a daze" and "felt Defendant Nassar speed up his penetrations and then grunt, ejaculating into her." Davis eventually miscarried.
Following the alleged rape, Davis says the allegations against Nassar that she made to authority figures went ignored. She claims she first told her coach about the assault, and her coach reportedly tried to force Nassar to give him the video. However, the lawsuit states that former MSU athletic director George Perles intervened, and made Davis's coach "return the video, resign and sign a non-disclosure agreement."
Later that year, Davis says she went to a campus police officer, who told her they were "powerless to investigate anything that takes place to the athletic department and to go to the athletic department," according to the lawsuit. When she told them she had already gone to the athletic department, the officer reportedly told her to drop her case, as Perles was a "powerful man."
Emily Gerkin Guerrant, current MSU vice-president and spokesperson, told BuzzFeed News that while the university takes the allegations "very seriously" and has promised to investigate them, "the protocols and procedures mentioned in this lawsuit do not reflect how sexual assault claims are handled at MSU."
The lawsuit, as well as the many gymnasts who have accused MSU of enabling Nassar's abuse, tells a different story: "This proves that not only did Defendant Michigan State University have knowledge that Defendant Nassar sexually abused and sexually assaulted minors, but that it would also go to great lengths to conceal this conduct." In May, MSU agreed to pay $500 million to more than 300 Nassar survivors.