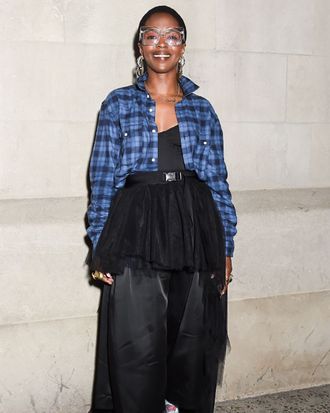 Ms. Lauryn Hill.
Photo: Courtesy of BFA
Ms. Lauryn Hill released her groundbreaking album, The Miseducation of Lauryn Hill, 20 years ago this past August. Last night, she celebrated with a performance at Woolrich's American Soul party, which kicked off New York Fashion Week spring 2019.
Hill, along with musicians Onyx Collective (who also performed), and Raphaelle also stars in Woolrich's new ad campaign. The ads focus on classic Woolrich pieces, especially those with the signature in-house red-and-black check. The Americana theme will continue for several campaigns, though it won't always focus on music.
At the party, the videos for the campaign played in the background while guests milled around listening to live music and eating fried chicken, mac-and-cheese, and cornbread. A crowd began to form around the main stage half an hour before Ms. Hill was supposed to perform. She was introduced by her daughter, Selah Marley, who read a piece of a poem about soul music that Ms. Hill had written. Then Ms. Hill started singing her hit "Lost Ones," and it seemed for a moment that even the most uptight people in the room were genuinely letting loose.
Still, Ms. Hill seemed to be having more fun at the party than anyone (aside from her backup singers, who briefly made me want to change career paths). It was a good note to start off the week off — an amuse bouche of culture, if you will, and a contribution to the Make Fashion Week Fun Again Campaign.