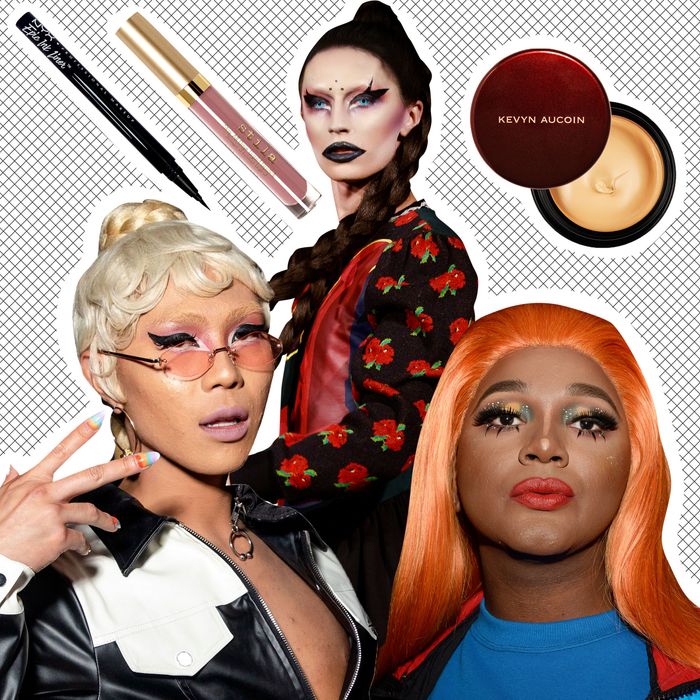 Photo: Getty Images, Courtesy of the Retailer
Drag queens understand the central paradox of makeup: It can transform you into someone else, but at the same time, it can help you express exactly who you are. At Opening Ceremony's spring 2019 drag extravaganza show, the Cut talked to some of the performers about their current favorite beauty products and the life lessons they've learned through their work. Read on for their words of wisdom — and the concealer that 5 out of 8 drag queens prefer.
Dynasty
On beauty: "For real, my favorite product right now the Stila lipstick. I use it so much. It's my go-to. It lasts forever, the shades are gorgeous, and it dries super quickly."
On life: "Drag is taking gender or other norms that people think they have to conform to and saying, 'No. That's not what we are supposed to do at all.' Through it, I've learned not take everything so seriously. To look at everything with a sense of humor. To go through life with a smile on my face and to be able to laugh."
Miss Fame
On beauty: "Traveling is hard on the skin. Dr. Barbara Sturm is brilliant, I love using her products as a base. It's pretty, full-coverage make-up for the stage and it makes the skin look perfect. Jumbo lashes — the 301 are a drag standard. And I love Pat McGrath for anything lipstick. I was a part of the campaign for the glitter kit. Stila has a great liquid lipstick, too. I also like the trick of mixing a cream highlighter with a powder to make it more intense."
On life lessons: "You can get what you want, but it won't feel like what you expected it to feel. I'm someone who is stressed constantly. I've had to learn that the moments in between are actually very special. Cherish that second, that minute, that year that it took to getting your vision executed."
Peroxide
On beauty: "My favorite is the Kevyn Aucoin Sensual Skin Enhancer. It's so good. I only have one shade and it's too light for my whole face but I use it as highlight. I put it over a base foundation on my cheekbones, brow bones, upper lip, and jaw area."
On life: "Confidence. None of it matters. You're putting on a costume in some shape or form, you might as well walk out of your house feeling like a rock star. Who I've become because of drag is closer to who I've always wanted to be."
Kandy Muse
On beauty: "I love the Sensual Skin Enhancer concealer. It's full coverage. It will last you a very long time. It feels expensive — because it is. I use it to conceal in areas like the under-eyes, middle of my nose, forehead, middle of the chin, anywhere that needs to be brightened up."
On life: "I've learned to have self-love and to accept other people for who they are and not what they look like. In drag, you inspire a lot of people. To inspire, you need to look within, find yourself, and express your inner demons."
West Dakota
On beauty: "I really like the Bobbi Brown concealer. I don't have to use a lot of it and it has a natural finish. It can cover up your entire brow. I like the NYX liquid eyeliner, too. I go through so much and it's inexpensive, stays in place, and works well."
On life: "It's okay to have fun. Put yourself out there!"
Momo
On beauty: "The Kevyn Aucoin Sensual Skin Enhancer. It's so good. It looks absolutely flawless when you set it, and it doesn't crease, either. I set it with Ben Nye Neutral Set Colorless powder."
On life: "Don't take things so seriously. Life is beautiful. You're allowed to be you in an exceptional way."
Hungry
On beauty: "I like the Make Up For Ever Flash Palette. I use it so often. I work on grease paints and add my colors on top."
On life: "Drag opens you up. It made me more approachable and more able to deal with social situations. Through drag, you're forced to interact with the audience off-stage. That took a while for me to get used to. It helps your self-confidence if you see your work being appreciated in the right way."
Jacquee Kennedee
On beauty: "I love Lit Cosmetics and Pat McGrath glitters. The Kevyn Aucoin Sensual Skin Enhancer is so good. You don't need that much and it's so full-coverage. I use it as my foundation, blending it out with a Beauty Blender."
On life: "Acceptance. It's fascinating how there are so many different types of drag and there's no correct way to do it."
If you buy something through our links, New York may earn an affiliate commission.