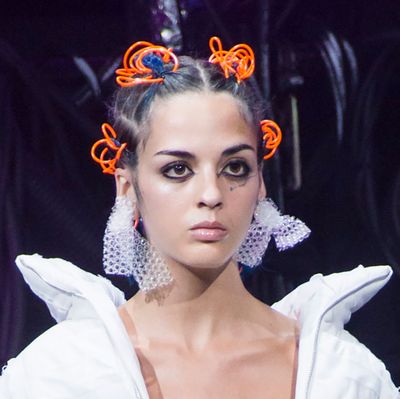 Photo: Daniele Oberrauch/Imaxtree
In 2016, the Merriam-Webster dictionary defined the slang term "lit," making it die a little death. In 2018, the term's demise was fully confirmed after Donald Trump Jr. used it in a tweet to describe Anthony Kennedy's retirement. But perhaps it's been resurrected again thanks to some clever hairstyling.
At today's Nicholas Kirkwood spring 2019 show, lead Sam McKnight (who was once Princess Diana's hairstylist) created a design that could be best described as "glowworm, but make it fashion." He and his team used different lengths of light-up plastic laces in shades of neon to create what he called a "cyber ravers" style. Looped horizontally around haphazard plaits, they glowed in the models' hair, emitting a phosphorescent light as they walked the runway.
Maybe it's still a stretch to call the look "lit," but with Paris Hilton's blessing, we can at least call is "sick."