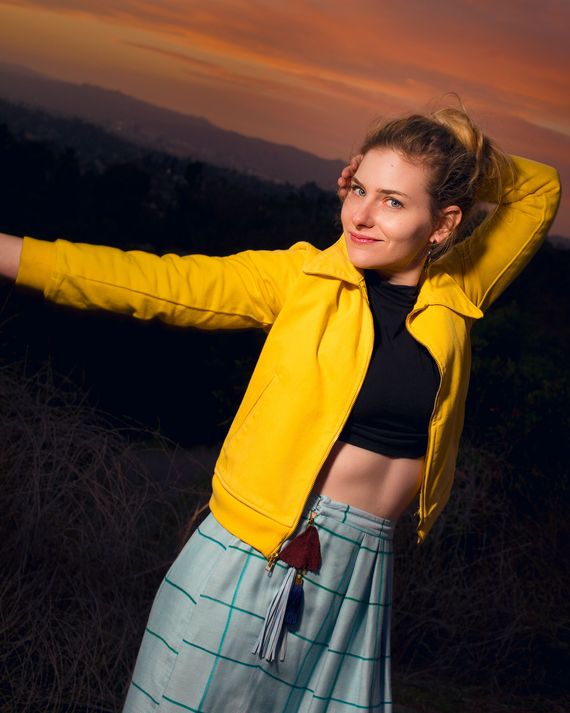 Can you translate your truest, quirkiest passions into lucrative, full-time work? If you're familiar with Lisa Hanawalt — author, illustrator, humorist, and general-purpose weirdo — you might be tempted to believe that it's possible. Because Hanawalt has the kind of career that most creative weirdos can only dream of: She's written and illustrated three funny, imaginative books (the latest of which, Coyote Doggirl, came out from Drawn & Quarterly on August 21), she's the visual mastermind behind the characters and look of BoJack Horseman (the fifth season of which airs on Netflix this fall), and she's the creator of an upcoming animated show for Netflix called Tuca & Bertie about "the friendship between two 30-year-old bird women who live in the same apartment building." (Tuca is "a cocky, care-free toucan" voiced by Tiffany Haddish, and Bertie is "an anxious, daydreaming songbird," voiced by Ali Wong.)
All of which is beyond enviable. In fact, I want to warn you that if you're anything like me, reading this profile might hurt you a tiny bit. Because when it comes to taking the freakish dreamspace inside your brain and translating it into a twisted, delightful story, Hanawalt is the real enchilada, the genuine article, the giddily impossible apex. BoJack Horseman arguably stands as the most fiercely unique, stubbornly angsty show currently on TV, and Hanawalt's sneakily clever visual style perfectly embodies show creator Raphael Bob-Waksberg's oddball vision. While most anxious, daydreaming songbirds with rich interior lives might struggle to make their denuded surroundings match the visions in their heads (not to mention struggling to, say, pay their bills), that doesn't seem to be the case with Hanawalt. Being in her presence is more like meeting a cocky, carefree toucan for the first time. "Where did you get that colorful yet intimidating beak?" you want to ask. "How did you learn to fly that way? Why are you so carefree?"
I met Hanawalt at ShadowMachine in Hollywood, a playful but posh animation studio featuring a giant cut-out of BoJack and a sound room that's shaped like a big silver metal helmet. As amiable young creative types meandered through the halls, Hanawalt's very nice assistant brought me an icy-cold grapefruit LaCroix; then I was led to Hanawalt's office in the back, which she shares with her dog, Indiana Jones, a charming medium-sized brown mutt with very nice manners. "I think she's just what dogs look like when they have sex indiscriminately for a lot of generations," Hanawalt told me in what I would soon discover is her typical low-key funny way of dropping punch lines into everyday conversation. Anxious to find a little suffering in this sunny picture, I asked Hanawalt if it was hard to go from the independent work of creating illustrated freelance pieces for the Hairpin and Lucky Peach to working with the self-proclaimed busy and important human beings of Los Angeles.
"I was commitment-phobic about it," Hanawalt said, somewhat reassuringly. When her old high-school friend Raphael Bob-Waksberg called and asked her to work on the pilot of BoJack, the animated show he'd created and pitched to Netflix using drawings of hers, at first she said no. So he contacted a few other artists. "Six months later, they came back to me and said, 'No really, we think you should be part of this.' And I'm glad they did. Because by then I was like, 'Yeah, okay. Why not?'"
Hanawalt nailed the character drawings quickly. BoJack was the easiest — not surprisingly, since she'd spent most of her childhood drawing horses, obsessing about horses, and even, in elementary school, walking on her hands and knees like a horse. Working with Bob-Waksberg was also easy; she knew him well and they'd already created a web comic together. "If I just draw to please Raphael, then I'm already on the right track," Hanawalt tells me of her approach, thereby encapsulating a common introvert's strategy for avoiding bewilderment in the face of a big opportunity.
It's difficult to imagine the melancholy, conflicted brilliance of BoJack in the hands of a different artist. Hanawalt masters the show's dystopic L.A. settings with the perfect blend of oppressively cheerful palettes and neurotic triggers that set the mood for BoJack's angst and despair (BoJack's vertigo-inducing modern house on a cliff is a minimalist nightmare). She manages to put a new spin on now-clichéd Hollywood locations (talent agencies, mansions) by lavishing them with garish melon-meets-lime-green palettes, and infusing each space with faintly scary or unnerving or funny details that underscore various characters' quirks and flaws (Mr. Peanut Butter's walls are adorned with pictures of dog butts). Each setting on BoJack is heavy with emotional relevance: There's something deeply sad about BoJack's bedroom, with its three Warhol-esque paintings of horseshoes giant, empty window, and perpetually messy bed. Princess Carolyn's office, with its bubblegum hues and its distant view of L.A. hills, crowded with twinkling lights, is at once sleek, upbeat, and a tiny bit lonely. And that's not to mention Hanawalt's character drawings, which seem to get more inspired and bizarre as the show ages (Sextina Aquafina, the risqué dolphin pop star, is one of my favorites).
Even so, there were a few bumps in the road when she started working on the show. "There were definitely some phone calls that drove me crazy, because they were like, 'This isn't quite right, but we don't know quite what we want.' I was like, 'Ugh, just tell me.' I was still really learning how to work with other people at that point. I'd mostly been drawing comics on my own. I'd just spit them out into the world and it was like, 'If you like it, great! If not, too bad!'"
Nonetheless, Hanawalt found herself thriving in her new role as collaborative artist and (gulp) boss. Once BoJack Horseman got picked up, she moved from New York to Los Angeles with her longtime partner, comedian Adam Conover, who was Bob-Waskberg's roommate in New York years ago. ("I had a crush on Adam from watching him in comedy sketches with Raphael.") Hanawalt has served as the show's production designer through all of its five seasons, which has required working closely, in person, with other human beings. "I didn't think I would like it. And I really grew to like it," she says. "Now when I'm on hiatus, I miss it. But I need a lot of freedom."
Freedom seems to be the theme of Hanawalt's latest book, Coyote Doggirl, the story of a fiercely independent female coyote/dog/girl with a penchant for loner sentiments ("Other people are so exhausting") and hand-sewn leather crop tops. In the graphic novel, our heroine gets separated from her trusty horse, Red, while fleeing some bad guys/dogs, and her way of life is threatened for the first time. When I asked how this strange anthropomorphic animal-Western came about, Hananwalt told me she was merely procrastinating. "I was working on BoJack for the first time, and this was meant to be a fun little side project," she says. "I think if I'd known it would be a book, it would've intimidated and paralyzed me." Hanawalt kept returning to the project after putting it down repeatedly. "I was going to throw it out, and Adam convinced me not to."
An adventure comic is a little bit of a swerve after her previous two books, My Dumb Dirty Eyes and Hot Dog Taste Test, which are both collections of her best illustrated pieces, including a comic diary about a trip to Argentina (in which the author reveals her pervasive fear of flying, and driving, and many other things), a delightfully odd profile of Wylie Dufresne ("The first dessert is 'popcorn vacherin,' which I promptly rename 'sherbet on bath salts'"), and a harsh take on The Bachelor ("Ben [Flajnik] looks like someone boiled all the flavor out of Jason Schwartzman"). My favorite, though, might be an illustrated review of the film War Horse that features this observation:
"In case you're unfamiliar with the genre, every horse movie is about a plucky young person forming a special bond with an otherwise difficult and unruly horse. Because that's the dream, for a wild creature to totally trust you and become your buddy. It's the ultimate flattery. It's also the ultimate disappointment when you take riding lessons and your horse doesn't care about you and tries to rub you off on a tree."
There's a palpable battle between extreme confidence and nagging self-doubt in most of Hanawalt's work, which is maybe why I can't stop asking her how she's managed to keep her faith in herself and her art all these years. How has she become confident and unconflicted and self-assured enough to work for a larger audience, not to mention to work for the notoriously difficult humans of Hollywood? "People don't really have to figure that stuff out to be successful," she answers. "As long as it doesn't paralyze you, and you keep working? You can have all kinds of problems."
Which we should all take as … encouraging, I guess? But that doesn't mean that Hanawalt has never had the occasional crisis of confidence: "Even this weekend, I felt like I was having a tantrum. 'I'm a bad artist, I don't feel creative, I don't know what the next step is going to be in my career, I'm worried about everything, I'm worried that I'll run out of things to say. I'm worried that when I sit down at my desk, I don't really feel like working lately!' But my boyfriend really helps me a lot. He's like, 'Well, one of two things is true. Either you are bad and lazy, and everything you say is true, or you are good, and you just feel this way, and it's just a feeling. Which one do you think it is?'"
Adam sounds like a crazy blend of therapist, manager, life coach, and comic relief. When I say this, Hanawalt stares at the floor and blushes. "I mean, he's pretty great. He's very insightful." But then she adds that it's often hardest to be your own coach. "When other artists come to me I always say, 'You need to take a break. Nothing bad is going to happen if you take a break. Stop worrying about keeping up with your career.' But telling myself that is a whole different thing."
So what happened once the tantrum finally passed? "I came in on Monday and I got a shitload of work done. I always bounce back, and that's what keeps me going, I think. I feel like what goes down must come up." Hanawalt pauses for a second. "I'm also just having too much fun to stop. I really enjoy what I do." Yeah, we get it, we get it. Stop rubbing our noses in it already!
But then, maybe inside of each of us lurks a daydreaming songbird and a cocky, carefree toucan, an Ali Wong and a Tiffany Haddish, an imaginative introvert and a pragmatic extrovert, and the key is to nurture and encourage all of them at once. Or as Coyote Doggirl herself puts it, "Ahhh. Feels so good to be sitting astride a spirited steed!"