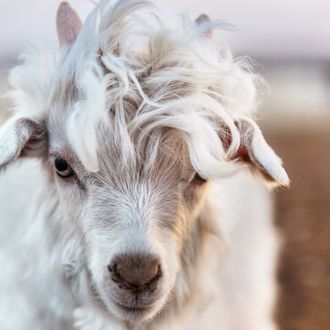 As the crisp autumn chill gently reminds us that summer may finally be coming to an end, there's nothing more appealing than the thought of wrapping yourself in cozy cashmere, maybe with a mug of hot chocolate and a good book. For the domestic creatures among us, Italian brand Loro Piana has rolled out the ridiculously soft Baby Cashmere Jubilee capsule collection, on the tenth anniversary of the brand's adoption of its unique cashmere blend — just in time for Milan Fashion Week.
The collection consists of three white pieces (two turtlenecks and a bomber) made with Loro Piana's Baby Cashmere blend, which comes from goats in the Alashan mountains in Mongolia. Since the mid-'90s, designer Pier Luigi Loro Piana has worked closely with goat herders there to develop the material for his sweaters and outerwear.
The harsh, extreme climates of Mongolia allow the goats to develop a unique double-layered fleece, with a coarse protective outer layer and an insulating inner barrier. Their coats can only be harvested once in a lifetime, during the month of June and before they turn one year of age, when they naturally shed. The resulting fabric is extremely rare and extremely cozy, used throughout the designer's fall/winter 2018 collections for both men and women.
You can shop the collections on the brand's website, and watch the clip below to see how the fabric is made. Bellissimo!