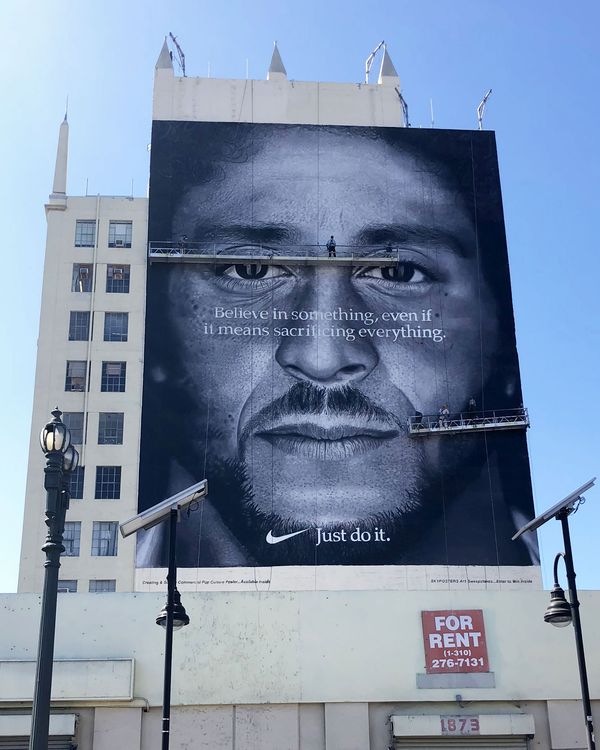 Photo: Picasa/Getty Images
In case you missed it, Nike's latest ad features Colin Kaepernick, the outspoken former NFL player who was the first to publicly take a knee during the national anthem, in protest of this country's racial injustice and police brutality. Of course, this inspired some unhappy conservatives to cut up their Nike socks, vow to wear Converse instead (Nike owns Converse), or even burn their sneakers to teach everyone a lesson about patriotism.
But now, a mayor is taking a further step, banning the purchase of Nike products in his town by any club using the city's recreation facilities — which would mostly affect children's sports teams and high school booster clubs. According to CBS News, Mayor E. Ben Zahn III of Kenner, Louisiana, reportedly requested that the city's recreation department refuse delivery or usage of all Nike products. Zahn's letter, which was later published in the New Orleans Advocate, read:
"Effective immediately all purchases made by any booster club operating at any Kenner Recreation Facility for wearing apparel, shoes, athletic equipment, and/or any athletic product must be approved by the Director of Parks and Recreation, or his designee. Under no circumstances will any Nike product or any product with the Nike logo be purchased for use or delivery at any City of Kenner recreation facility.



The news came from a statement by city councilman Gregory Carroll, posted on his Facebook page, in which he clarifies that this decision was made without his knowledge and "is in direct contradiction of what I stand for and what the City of Kenner should stand for." Carroll added that he is "100 percent AGAINST this decision."
Several Louisiana residents also expressed disappointment with the ban. On Facebook, a councilman from New Orleans wrote, "I was in church when I received a copy of the letter from the Mayor of Kenner. I have never felt a need to purchase one of these before but I am compelled now. Thank you NIKE!" Former Democratic National Committee chairwoman Donna Brazile, a Kenner native, has also publicly condemned the decision with a letter to the editor on NOLA.com. According to NOLA.com, nearly one-fourth of Kenner's registered voters are African-American.
Legal experts are also questioning whether Zahn's decision was within his jurisdiction. Scott Sternberg, a New Orleans–based business and media attorney, said on Twitter that he does not believe Zahn "can instruct private groups on where to buy uniforms." He said it would be especially tricky if the ban was due to a "viewpoint a company expressed," rather than any danger the company's products pose to residents.
On Monday, Zahn released a statement in response to the backlash, saying he wanted to protect taxpayer dollars from being used in a "political campaign." Though he said that he "applaud[s] Nike's message of inclusion and encouragement for everyone to be their best and dream big," he also wants to "draw the line on letting companies profit from taxpayers by espousing political beliefs. My decision disallowing Nike from profiting from our taxpayers while they are using their powerful voice as a political tool is my message. This government will not let taxpayer dollars be used to promote a company's or individual's political position, platform or principle. That's my position as a matter of fairness to all."
We hope kids understand that when they're not allowed to wear team uniforms with a Nike swoosh logo emblazoned on the corner, it's simply a matter of fairness.