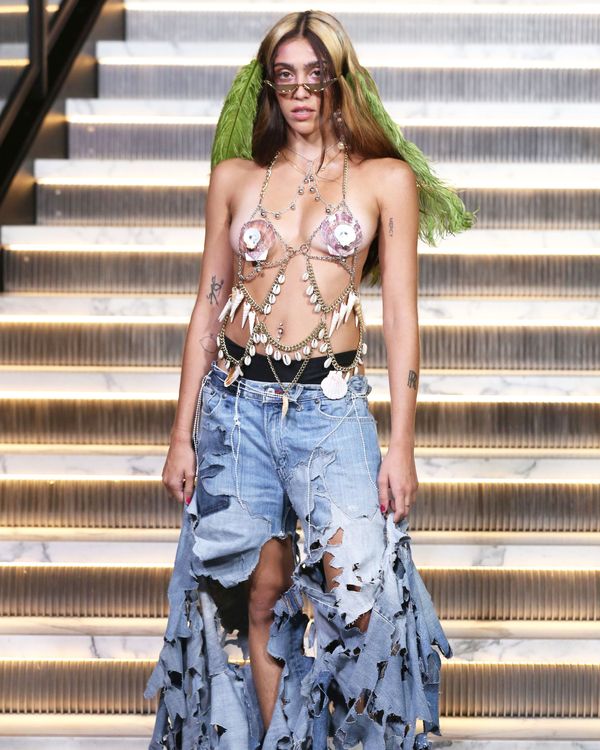 Lourdes Leon walks Gypsy Sport spring 2019.
Photo: Masato Onoda/WWD/REX/Shutterstock
With all the talk of rain this Fashion Week, Gypsy Sport was one of the few brands that actually tried to engage with the environment instead of cursing it.
For his spring 2019 show, designer Rio Uribe invited a professional Earth Mother to call upon the North, South, East, and West inside the Meatpacking District's Samsung 837 space. "Connect!" she chanted while wearing a crown of leaves and a necklace made of oyster shells. The audience held up their phones in silent awe, trying to locate this magical thing she called "inner peace."
When the show began, models walked wearing crocheted dresses sprinkled with shells, floral-print jeggings, and patched denim jackets embroidered with pennies — a creative take on the Chanel tweed classic. Among them was a new face: Lourdes Leon, daughter of Madonna, who wore a shell necklace which doubled as a bra, shredded bell-bottom jeans, and a headpiece made from green feathers. Perched on the bridge of her nose were a pair of sunglasses so tiny, you would not be blamed for missing them.
Leon has dabbled with modeling before — she recently starred in the Converse x MadeMe campaign — but this was her first time walking a runway at New York Fashion Week. As Uribe told Vogue backstage, she was able to avoid the traditional casting process by reaching out to the designer himself, who is a friend. She asked if she could walk in his runway show because she supported its progressive messaging, and obviously, he said yes.
Behind her tiny sunglasses, Leon never broke her Blue Steel gaze to acknowledge crowd members whispering, "Is that Madonna's daughter?" Clearly, she's found some inner Fashion Week peace.