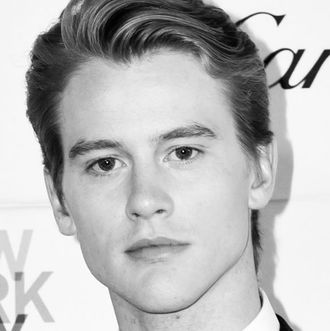 Chase Finlay, a former principal dancer with New York City Ballet.
Photo: Jared Siskin/Patrick McMullan via Getty Image
A former principal dancer with New York City Ballet spread videos of his sexual encounters with an ex-girlfriend and texted about abusing the company's ballerinas like "the sluts they are," according to a new lawsuit filed in Manhattan Supreme Court.
New York City Ballet "is a breeding ground for sexual exploitation," reads the aforementioned suit that 19-year-old former ballet student Alexandra Waterbury filed against the company and her 28-year-old ex-boyfriend, Chase Finlay. In the suit, Waterbury claims that Finlay not only photographed and filmed her without her consent, but that he then shared the footage with, according to the New York Post, "other male dancers, employees, donors and even a pimp." The lawsuit also alleges that Finlay exchanged texts with an unnamed donor about sexually abusing the ballerinas.
"We should get like half a kilo and pour it over the ABT girls and just violate them … I bet we could tie some of them up and abuse them like farm animals," the donor allegedly texted Finlay, who responded, "or like the sluts they are."
These allegations come less than a week after the New York Times reported that there was a "shake-up" at New York City Ballet, as the company had announced that three male principal dancers — Finlay, Amar Ramasar, and Zachary Catazaro — would not perform in the upcoming season due to "inappropriate communications." Whereas Ramasar and Catazaro were suspended without pay until 2019, Finlay resigned.
On Wednesday afternoon, Waterbury posted on Instagram about coming forward with her allegations against Finlay and New York City Ballet, saying that speaking out had lifted a "huge weight" off her shoulders.
"I have been wanting to share this for months but needed to take the necessary steps in doing so," she captioned her photo of an Audre Lorde quote. "Today freed me and my story. My truth will be known and I will not be silent."