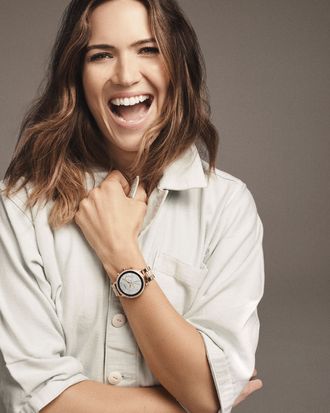 Mandy Moore wearing the Fossil Q Venture HR smartwatch.
Photo: Courtesy of Fossil
I've spent much of the past year focused on one thing: the renovation of Mandy Moore's California home. The This Is Us star spent several months posting on social media about the extensive renovations of the mid-century ranch house she purchased with her fiancé, Dawes frontman Taylor Goldsmith. We, her loyal Instagram followers, watched as Moore picked out terrazzo (a type of composite material made out of marble, quartz and other stones) for her new fireplace, witnessed the construction of her pool, and saw the amazing transformation of her pantry into a Type-A person's organized dream.
This summer, the end product of Moore's renovation was revealed in Architectural Digest. Unsurprisingly, I am obsessed with the images of Moore's new home. And so, when Fossil offered us the exclusive chance to interview Moore about her new line of watch dials for the brand's Fossil Q Venture HR smartwatch, I jumped to speak with her. The dials (which, for those of us who aren't literate in watch-speak, include both the face and the hands of the watch) are directly inspired by Moore's home, and utilize aspects of its stellar design.
Here, our (lightly edited) chat about the watch dials, her house, and my obsession with it all.
I was a loyal follower of your home redesign on social media, and the end result is just stunning. Had you always been a fan of design?
It was a passion that grew over time, and out of the opportunity to really discover what my style was. I had never really thought about it to that extent before, especially when it came to furnishing a home. I learned a lot as I went along.
I'm fairly new into my 30s, and I've found myself caring about things I never cared about before (like a perfectly organized cabinet, which is why I also stalk the Home Edit on Instagram, thanks to you). What is it about this time in our lives that sends us into a sudden nesting stage?
I don't know if it's something that's just ingrained in us or if there is a biological aspect to it. This has just been something that was undeniable to me. I've always considered myself to be a fairly organized person, but there's no greater feeling and sense of purpose than finishing some sort of ultimate cleaning extravaganza, where you donate things, get rid of things you don't use anymore, give them to friends.
I can't tell you how it's turned my entire life around to be able to walk into a closet or pantry and know where things are. I feel like I have more time to myself and I get more use out of the things that I didn't even know that I had. But I think you just come to the point in your life where you're like, "I'm done winging it. I'm ready to live this fully realized life as a 30-year-old adult person." I want my house and the things around me to function the way they're supposed to.
One of my favorite aspects of your home is your fireplace, and I know you were very involved in the design process. Can you tell me what went into that?
When we found the house, there were tiles, carpets, and the original bricks. We decided we wanted to limit the different materials we were going to use in the house, and we were pretty dead-set against using wood. So it came down to either polished concrete or terrazzo, which is pretty pricey and is sort of a dying art. Deciding to use terrazzo pushed our construction and move-in dates back, but I think it was the best part of the renovation process — and specifically, the terrazzo bench that's in the living room.
And now we see some of those terrazzo designs in these new Fossil watch dials. Why did you want to incorporate that into the watches?
I didn't want the design process to end. I was just inspired by the elements that went into the floors and the different geometric patterns that are throughout the house. There's not enough love for terrazzo, so I decided to memorialize and celebrate it in the form of a watch dial base.
Another watch dial from this line has marble, which looks a lot like the marble on your kitchen island. Why did you choose to incorporate that as well?
It's the same thing as with the terrazzo. I guess it's satiating and holding me over until I can get my hands on another space to renovate. I don't want the design process to end. I had so much fun. I'm still inspired by what I'm lucky enough to wake up to every day.
I live in a small New York apartment and I have this thought in my head that my entire life would be better if I lived in a house with a big kitchen. So I'm wondering, how has having such an open kitchen transformed both entertaining for you but also the act of cooking for yourself?
My fiancé and I had never really been too handy in the kitchen, but moving into this house has changed all of that. It's emboldened us to try new things and spend more time perfecting our skills in the kitchen. We're also so excited to have a space of our own to have friends over. For pretty much the entirety of our relationship, we'd been hopping from friends' house to friends' house anytime we'd get together for dinner parties. We hadn't been able to reciprocate until now.
Other than the marble and the terrazzo, were there any other aspects of your house that you kept in mind while designing the watches?
I can't think of the terrazzo without the brass inlay, so I wanted those geometric patterns of design and the hint of metal in there. I selfishly designed these for myself — now I can look at these materials that I've recently discovered and fallen in love with, and get to wear them on my wrist.
And lastly, will these watches be making a cameo on This Is Us? Unfortunately I feel they could only make a cameo present day with my character. I can see if I can hook up Susan [Kelechi Watson] and Chrissy [Metz] with them, but if Rebecca wants to be super hip and wear one of these watches, absolutely. But I hadn't really thought about that before, so who knows. To be determined.