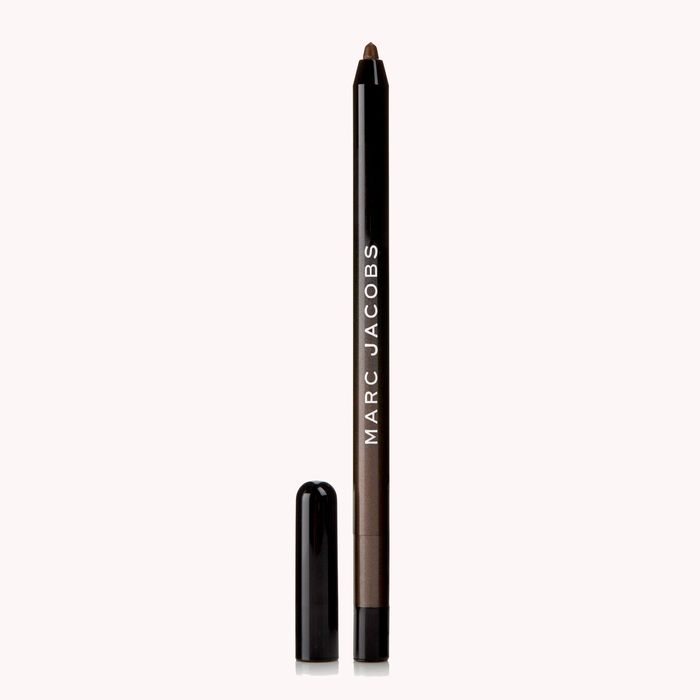 Photo: Courtesy of Marc Jacobs.
Glitter is fun. This is an obvious statement, but it doesn't make it any less true. Other obvious but true statements: Timothee Chalamet had better hair before, and anyone that gives you yellow gummy bears is not a friend. Also, an eyeliner with just a hint of glitter is a little more fun than any other eyeliner out there.
While glittery face masks aren't very effective, this glittery Marc Jacobs eyeliner is. The pencil glides on in one easy, creamy swoop. Each etching combines rich, pigmented color with tiny flecks of shine that are seamlessly embedded into the formula. The glitter is so fine that it doesn't look kitschy or janky, but luxurious and smooth. It also has the effect of adding a slightly more awake twinkle to your eye.
Everyone knows that glitter nail polish is the most chip-proof and durable, and I'm convinced that this translates to eyeliner too. This is one of the most long-lasting eyeliners I've tried. My eyelid is so oily that it's like a Naked and Afraid terrain for eyeliner — only 1 percent of eyeliners make it through (without smudging). Yet I've worn this to workout classes and back, in the rain no less, without a single smudge. Sometimes there's a tiny bit of glitter fallout at the end of the day, but it's so little that it has the effect of making you look slightly whimsical rather than disheveled. It comes in seven jewel-toned colors, but my favorite is the Glitterbug, a rich milk chocolate brown.
If you buy something through our links, New York may earn an affiliate commission.