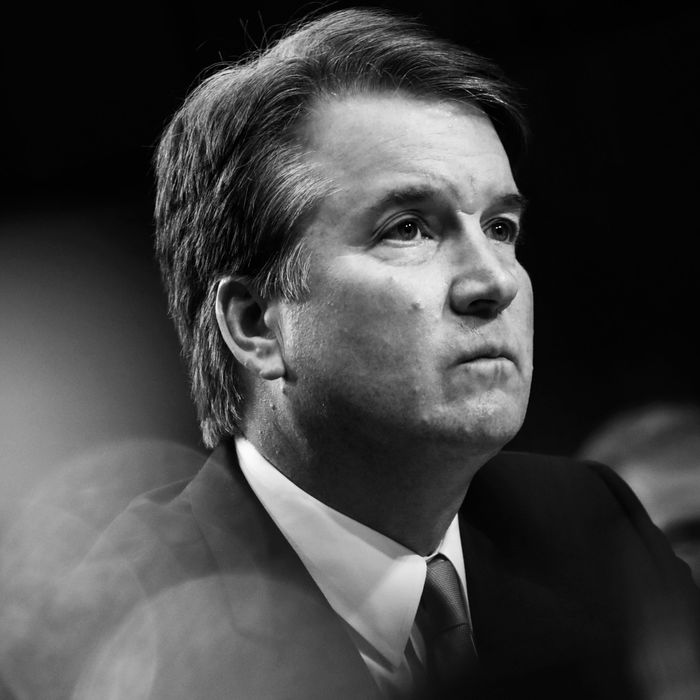 Brett Kavanaugh.
Photo: Drew Angerer/Getty Images
When Christine Blasey Ford publicly came forward with her sexual-assault allegation against Supreme Court nominee Brett Kavanaugh, she named conservative writer Mark Judge as Kavanaugh's alleged accomplice during the incident. Both Judge and Kavanaugh have denied Ford's allegations; Judge also claimed that "no horseplay" occurred at the Georgetown Prep parties they attended. But, in a Sunday night report by The New Yorker, Judge's ex-girlfriend of three years Elizabeth Rasor says he told her a "very different story" about those parties.
Rasor says that Judge "told her ashamedly" about an incident in which he and other boys took turns having sex with a drunk woman, per The New Yorker. He seemed to think it was consensual, she added, and he didn't name anyone else who had been involved. There is no indication that Kavanaugh was one of the boys, The New Yorker notes.
An hour after the report was published, attorney Michael Avenatti tweeted an email in which he claimed to have "significant evidence" that Kavanaugh, Judge, and others would "participate in the targeting of women with alcohol/drugs in order to allow a 'train' of men to subsequently gang rape them."
Speaking with The New Yorker, Rasor, who dated Judge for three years, said she felt morally obligated to dispute Judge's claims about the prep school party culture. She told the magazine, "Under normal circumstances, I wouldn't reveal information that was told in confidence," before adding, "I can't stand by and watch him lie."
In a statement, Judge's attorney said that he "categorically denies" Rasor's account. An unnamed woman who attended high school in Montgomery County, Maryland, around the same time as Judge and Kavanaugh also refutes Judge's claims about the social scene. The woman, who asked to be kept anonymous out of fear of retaliation, told TNY that the male students "would get a female student blind drunk" and then try to take advantage of her. "They treated women like meat," she said.
Despite being named by Ford as a witness, Judge, who once praised "uncontrollable male passion" in his writing, has thus far refused to testify on Ford's sexual-assault allegations.