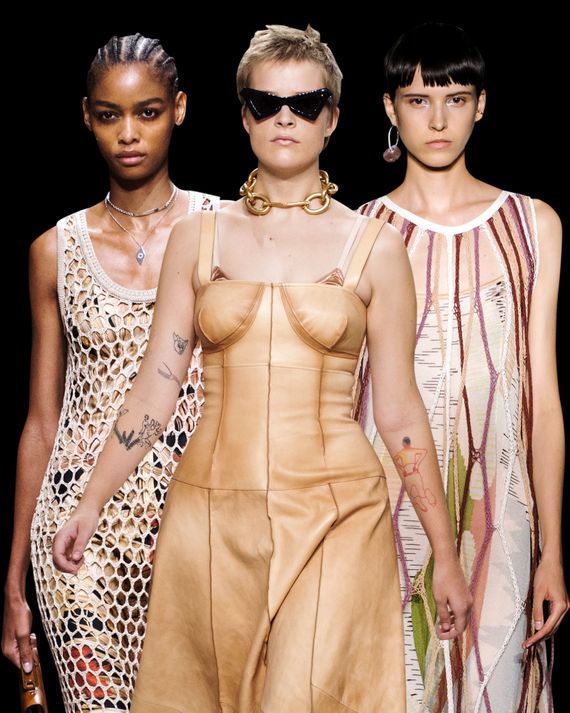 Ferragamo, Marni, Missoni spring 2019.
Photo: Imaxtree
On Sunday morning I found myself thinking about Call Me by Your Name while lounging on a bed with about five other fashion editors. Before you get any ideas, let me explain: I was at Marni's spring 2019 show, and the brand brought in dozens of twin and full-size beds to serve as front-row seats. This being the last day of Milan Fashion Week, I think everyone was okay with getting a little cozy … and maybe even getting a quick nap in before the next show.
I was thinking about Call Me by Your Name, though, because Marni designer Francesco Risso was inspired by classic sculptures this season, specifically the Venus de Milo. If you aren't familiar with the book/film, Oliver (played by Armie Hammer) spends his summer studying ancient sculptures with the father of Elio (Timothée Chalamet) at his Italian villa. Oliver eventually falls for Elio, who is the living, breathing version of the sculptures he studies. Marni awakened similar desires for me on Sunday.
The brand's spring collection featured the Venus de Milo both as a cheeky print (it was photographed from the front, and the back) and in the form of large, sculptural earrings. As for the design of the clothes, Risso reinterpreted the ancient Greek bust with chiseled corset crop-tops and fleshy leather fabrics. He also treated the collection like a blank canvas, including swabs of paint on square-shaped coats, which looked as though they'd been smeared by someone's finger.
"It's about intimacy," Risso told reporters backstage. He wore a Venus de Milo bust around his own neck, plus a bucket hat on his head (his signature accessory). At Milan Fashion Week, I've seen a lot of attempts at sex appeal: This weekend alone, the brands Roberto Cavalli, Philosophy, and Dolce & Gabbana all showed versions of va-va-voom corset dresses, snakeskin booty shorts, and revealing cutouts, which were provocative in their own ways. But no collection felt as sensual as Marni's. There were no seductive tricks. Instead, Risso took classic forms of beauty, stripped them down, and brought them back to life again in ways that felt fresh and true.
Speaking of Call Me by Your Name, Armie Hammer was actually at Milan Fashion Week this season, though not at Marni. He sat front row at Salvatore Ferragamo with his wife, Elizabeth Chambers, on Saturday. Coincidentally, Ferragamo's designer, Paul Andrew, was also inspired by sculpture this season, specifically a piece by Constantin Brâncuși, which was mimicked in the heel of a spring 2019 platform shoe.
Now in his second season with the brand, Andrew seems comfortable translating the long history of Ferragamo for 2018 — and for all ages. One of my favorite looks was actually the first one, worn by Stella Tennant. She exuded a more casual sort of sex appeal in a simple leather skirt and T-shirt — one that I think comes with experience.
On the final night of Milan Fashion Week, Missoni hosted its 65th anniversary runway show on a sprawling rooftop, with the city lights shimmering in the background. You know that late-summer weather, when the air is warm but there's a slight breeze? When you throw on a sweater, and your whole body and mind suddenly reaches a perfect stasis? That's the sensation I felt watching models walk the Missoni runway in the brand's classic, easy-breezy knits.
In the end, I fell for Milan. I think if the Venus de Milo were alive today, she'd have a lot of success shopping here.