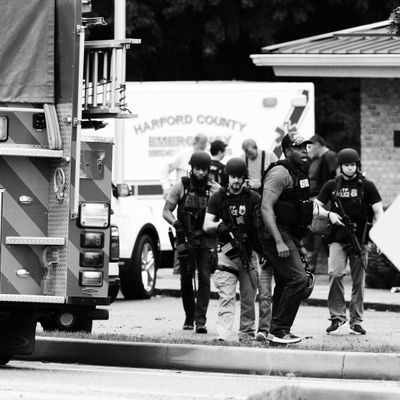 Maryland shooting.
Photo: Matt Button/TNS via Getty Images
On Thursday morning, a woman opened fire at a Rite Aid support facility in Harford County, Maryland, killing three people and injuring three others, before fatally shooting herself. While details around the tragedy are still emerging, here's everything we know about the Maryland shooting so far:
Who was the shooter?
On Thursday afternoon, Sheriff Jeffrey Gahler revealed the shooting suspect to be 26-year-old Snochia Moseley, a temporary employee at the Rite Aid facility. Per a law enforcement official who spoke to CNN, the shooter once worked as a security guard at the facility.
At a news conference earlier in the day, Gahler said that the gun found on the scene belonged to the suspect, and that she had purchased it legally.
How many people were injured?
Per officials, the shooter opened fire around 9 a.m. ET, and within five minutes of receiving an alert, deputies were on the scene. At time of publication, three people have died and three others were injured; the suspect, too, died at a nearby hospital after shooting herself.
As of now, Gahler said that authorities are not revealing the identities of the victims, as their families are still being notified.
Do we know the suspect's motives?
Officials have not yet identified a motive. As previously noted, though, a source close to the investigation said the suspect was disgruntled.
Have any politicians responded?
In a series of tweets throughout the day, Maryland Governor Larry Hogan proclaimed that he's "closely monitoring the horrific shooting," and declared that "the state stands ready to offer any support."
"Our prayers are with all those impacted, including our first responders," he tweeted.