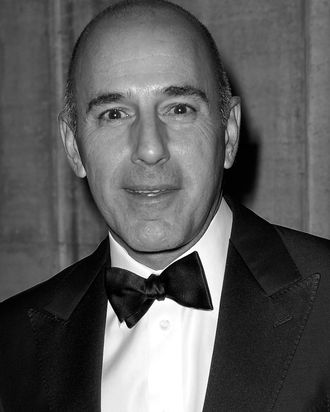 Photo: Chance Yeh/Getty Images
By now, most of us are all familiar with the new American custom of wealthy, famous men going into hiding after they've been accused (or outright admitted to) sexual misconduct. That means it's become a sort of companion ritual to track where the alleged predators decide to make their beta testing appearances in public after extended dormant periods.
On the heels of Louis C.K.'s unannounced Comedy Cellarappearance, we now have Matt Lauer, who The Daily Mail has photos of while he cruised around the Hamptons in his expensive boat over Labor Day weekend.
This would be less noteworthy if Lauer had been in a vessel with a name like Intrepid or even The Nautilus — if he wanted to up-sell his image as some kind of heroic explorer — but no. In a testament to his bravery and guile, Lauer's boat is called Resilient.
The fallen Today host recently said he would "be back on TV" despite allegations of sexual harassment, so hopefully he doesn't try to pitch a special to some network about "How To Read A Room."