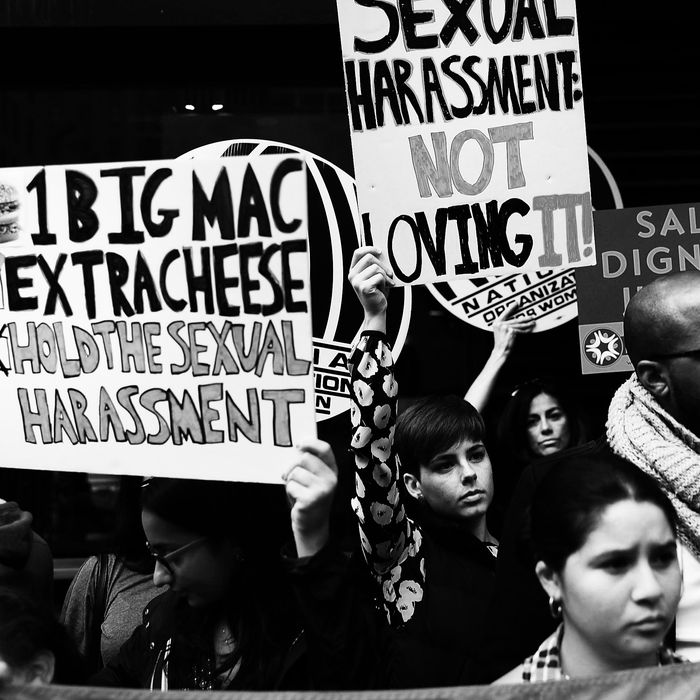 Protesters outside McDonald's in 2016.
Photo: Spencer Platt/Getty Images
Tanya Harrell was working at a McDonald's in New Orleans, making $8.15 an hour, when a co-worker approached her and then touched her "in my private areas," she says. "He was very aggressive. And I just never thought that he would do something like that."
When Harrell tried to report the incident to her managers, "they didn't take it very seriously," she told the Cut. Then, she says, a different co-worker forced her into a bathroom stall at work. He "did a lot of uncomfortable things towards me," she recounted, emotion building in her voice — including, she claims, exposing himself to her. "When I was telling him to stop he didn't stop," she said. "I almost got raped, I got assaulted, I got treated unfairly … he didn't show me no respect."
After what happened when she reported the first incident, she didn't even bother speaking up. "The owners really don't care," she said. "I really feel like they don't care at all."
In May, Harrell and nine other McDonald's employees filed a federal complaint against the company. Four months later, they say they haven't received any response — so today, they're going on strike to protest what they describe as the company's inability, or unwillingness, to prevent sexual harassment in its restaurants. Today's action is not just bold, but historic, advocates say: This is the first-ever nationwide strike against sexual harassment, and it's led by working-class women of color in a moment of reckoning that tends to be dominated by accounts of the wealthy and privileged.
Today's action will take place during the lunchtime rush, in ten cities simultaneously: Chicago, Los Angeles, San Francisco, Miami, Orlando, New Orleans, Milwaukee, St. Louis, Kansas City, and Durham. This is wholly unprecedented, according to Annelise Orleck, a professor of history at Dartmouth College. "A multi-state strike on the same day at the same time? Yes, this is the first," she told the Cut. "We're starting to see strikes again being considered viable options among workers … This strike is a sign of a very different kind of labor movement" — one that's "led by women of color."
"There's a lot going on among workers," she added. "It's not just a handful of actresses in Hollywood."
The ten women behind the May sexual-harassment charges, which were filed with the Equal Employment Opportunity Commission with the help of the Time's Up Legal Defense Fund, say they experienced lewd comments, propositions, groping, and even sexual assault while working at the fast-food chain. They also say that when they reported what had happened to them, they were ignored, if not retaliated against.
But these charges have yet to get McDonald's attention, it seems. "They have not reacted at all," Harrell said.
That's what drove McDonald's employees to strike, Harrell and other organizers say. "The motivation is anger," explained Adriana Alvarez, a McDonald's employee and organizer with Fight for 15, an organization that fights for a living wage and union rights for fast-food workers that helped organize today's action. "These women are hurt."
Ultimately, the action is meant to send a larger message: "We're not going to stay quiet anymore," Alvarez affirmed. "We need to have a path forward so that no one experiences sexual harassment on the job — not just in fast food, but everybody."
Harrell told the Cut that she feels confident headed into the strike because of how many people came together to make it happen. "This is something that not just me, but also everyone else who is going on strike believes in," she said. "We all put … our strength and our hopes and our beliefs into this strike."
At the end of the day, she just wants to ensure that others don't have to go through what she did. "Sexual harassment at work is really inappropriate, and work should be work," she declared. "Nobody should have to deal with this … If I had a choice to save every woman, I would try my best to make this stop."
Asked for comment on the strike, and the allegations of sexual harassment in the workplace, a McDonald's spokesperson responded in an emailed statement, "There is no place for harassment or discrimination of any kind at McDonald's. Since our founding, we've been committed to a culture that fosters the respectful treatment of everyone. We have policies, procedures and training in place that are specifically designed to prevent sexual harassment at our company and company-owned restaurants, and we firmly believe that our franchisees share this commitment. Today, in addition to our existing initiatives, we are engaging third party experts known for their expertise in the areas of prevention and response including, RAINN and Seyfarth Shaw at Work, to evolve our policies, procedures and training. We will continue—as we always have—to look at ways to do even more to ensure that McDonald's values are reflected in every restaurant, every day."
One 2016 survey found that 40 percent of women in the fast-food industry had experienced unwanted sexual behavior at work, including sexual remarks, touching, and even rape. "We've all seen it," said Alvarez. "We're just there to work; we don't show up thinking, 'Oh hey, I want to get harassed today.' We just want to get through our work and make our honest pay and go home."
The striking workers have a set of demands: that the company form a committee to address the issue of sexual harassment, made up of employees, corporate and franchise representatives, and women's rights groups; that it strengthen and enforce its existing zero-tolerance policy; that it hold mandatory trainings for employees, including managers; and that it create a "safe and effective" system for making complaints. "It's ridiculous, because McDonald's is such a big corporation they have the means to stop sexual harassment completely," Alvarez said.
She also hopes that the strike helps the women who have come forward with their allegations feel seen. By going on strike, "you see and you feel the power that we have," she said. "These women who have been harassed need to feel that. They need to see that they're not alone and it's okay … to stand up and say, 'You know what, this happened to me and it shouldn't happen to me. Do something about it.'"
Harrell wants women across all industries to know she's fighting for them, too. "To everyone that's afraid, for every woman this is happening to, I want them to know that I am standing here with you," she said.