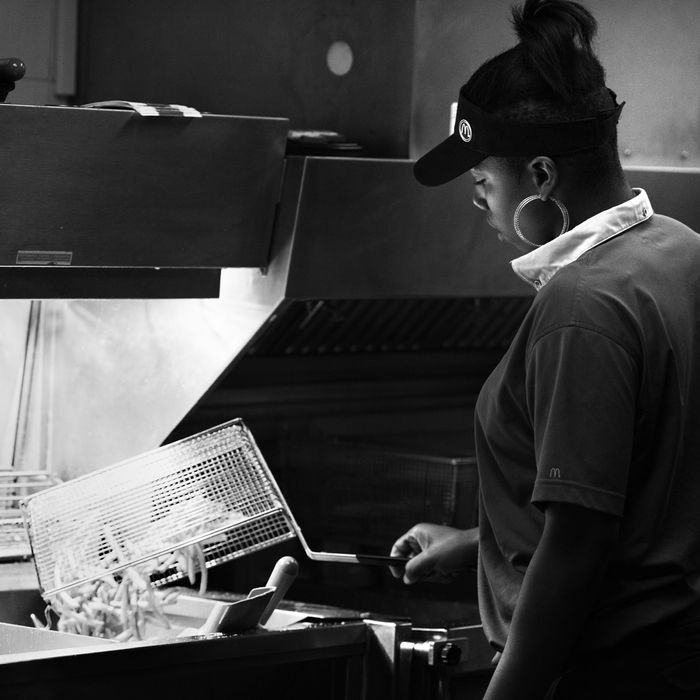 A worker at McDonald's.
Photo: Caitlin O'Hara/Bloomberg via Getty Images
McDonald's employees across the country have voted to go on a one-day strike next week in an attempt to pressure management into taking bigger steps to combat workplace sexual harassment. According to organizers, this is the first-ever multi-state strike to explicitly target sexual misconduct on the job.
U.S. News reports that on September 18, workers at McDonald's in ten cities are planning to walk out at lunchtime, and will not return to work until the following day. Restaurant managers are being targeted in cities including Chicago, Los Angeles, Miami, and St. Louis, though organizers don't yet have an estimate as to how many people will participate in the direct action.
Sexual harassment is especially pervasive in the restaurant industry, according to a survey from Restaurants Opportunities Center United: Nearly 80 percent of women in the industry say that customers and colleagues have harassed them, and two-thirds of workers say their managers were the harassers. The striking McDonald's employees are demanding improved procedures for harassment complaints, required anti-harassment training for all employees, and the creation of a national anti-harassment committee that includes workers, store representatives, and women's groups.
Tanya Harrell, a 22-year-old who is one of the organizers behind the strike, filed a complaint with the U.S. Equal Employment Opportunity Commission in May, along with nine other women. In the complaint, they claimed that they had been subjected to sustained harassment at work, and said that when they came forward, they were either mocked or faced retaliation.
In an interview with U.S. News, Harrell slammed McDonald's for their disingenuous claims about how seriously they take workplace harassment.
"They want people to think they care, but they don't care," she said. "They could do a way more better job."
McDonald's defended its anti-harassment efforts to U.S. News, insisting that the corporation has "policies, procedures and training in place that are specifically designed to prevent sexual harassment at our company and company-owned restaurants." But Fight for $15 lawyer Mary Joyce Carlson, who worked with the women who filed the EEOC complaints, says the company needs to enforce these policies more strictly.
"We see no evidence there's been any change at all," she said, adding that she hopes this strike will inspire employees to demand better working conditions. "Whatever policy they have is not effective."