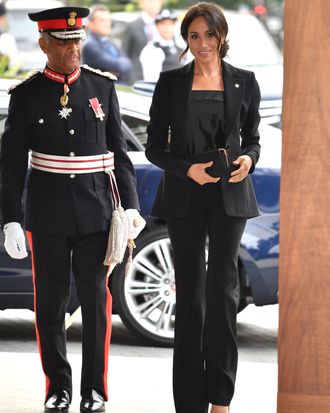 Meghan Markle.
Photo: Tim Rooke/REX/Shutterstock
Meghan Markle genuinely enjoys a pantsuit. That's wonderful, though it isn't the royals' favorite look. However, today Markle and Prince Harry (her husband) showed up to the WellChild awards in suits — Prince Harry's was a classic navy, and Markle opted for a simple black-on-black set by Altuzarra and a black blouse by Deitas.
A brief history of Meghan Markle's royal suits: In February, she wore a suit to go to her first evening event with Prince Harry. On a trip to Ireland, she wore a daytime suit to a sports stadium. In Australia, however, Prince Harry barred her from wearing a Stella McCartney tuxedo to an evening event (the queen reportedly prefers women to wear skirts) (except jodhpurs, they're fine). Looks like Markle won that argument in the end.
Regardless of the royal back-and-forth, it's a good understated look that underscores the seriousness of the night. Harry has been a patron of WellChild, a charity for ill children and their families, since 2007. He'll present an award during the ceremony and make a speech. The couple will be out at another gala tomorrow.