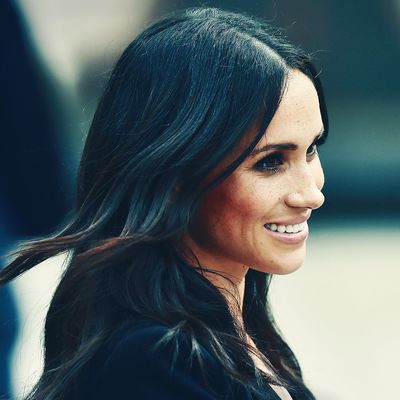 Meghan Markle.
Photo: Charles McQuillan/Getty Images
We've known for a while that Meghan Markle loves to cook: her former blog, The Tig, was full of recipes; her old Instagram heavily featured her passion for food; and she revealed in a BBC interview that Prince Harry proposed to her while they were roasting an engagement chicken. So it's only fitting that Meghan's first solo charitable endeavor as a duchess involves a cookbook featuring recipes from women affected by the devastating Grenfell Tower fire.
Kensington Palace revealed on Monday that Meghan is supporting the publication of a new community cookbook, entitled Together: Our Community Cookbook. It marks her first official project since her royal wedding to Prince Harry in May. The book includes more than 50 recipes from women whose community was affected by the 2017 tragedy, during which 71 residents were killed in an "unprecedented" apartment building fire. It will be released on September 25.
"Together is a cookbook but it's also the story of a West London community who gathered together in a kitchen and discovered the healing power of food," Meghan says in a video, released on Monday by Kensington Palace.
Meghan continues in the video, "In January 2018, as I was settling into my new home of London, I met a group of women whose community had been affected by the Grenfell fire. They had decided to get together to cook fresh food for their families and their neighbors."
She first started visiting Hubb Community Kitchen, which is led by women affected by the fire, at that time — and has since made regular visits to the location, according to Kensington Palace. The proceeds of the book, which includes a foreword written by Meghan, will go toward helping Hubb (which means "love" in Arabic), allowing the kitchen to stay open seven days a week and continue to feed communities affected by the fire.
On Monday morning, after the book was announced, Meghan's close friend Serena Williams posted a message of support on Instagram. "I used to call you Meghan (and I still do) but dear Duchess of Sussex your first project 'Together' a cookbook bringing women of all cultures together. I could not be more excited about it and proud of you," Williams wrote." It's beautiful - diversity, inclusivity, coming together in grief or joy - there is just so much love."
This post has been updated with Serena Williams's Instagram.