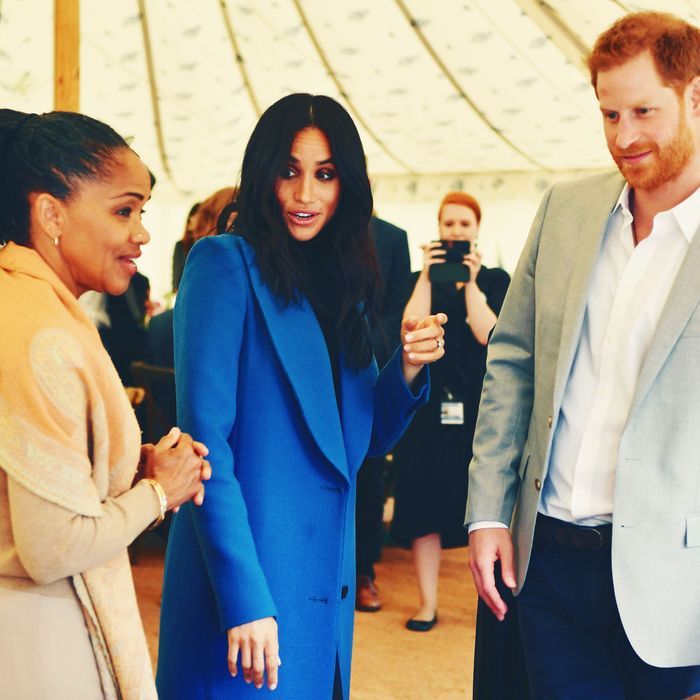 Doria Ragland, Meghan Markle, and Prince Harry at the lunch celebrating Meghan's new cookbook.
Photo: BEN STANSALL/AFP/Getty Images
It was only a matter of time before Meghan Markle, lifestyle blogger-cum-Duchess of Sussex-cum-cookbook author, began hosting lunch parties at the Kensington Palace. On Thursday, she hosted an event to celebrate the launch of Together: Our Community Cookbook, which benefits victims of 2017's Grenfell Tower fire in West London. The book — her first solo project as a royal — features recipes by the Hubb Community Kitchen, a group of women who came together after the fire to cook for the families of those affected.
Guests of the lunch included Prince Harry, of course, along with Meghan's mother Doria Ragland, who flew in from L.A. earlier this week and introduced herself as "Meg's mom." The lunch marked the first time Ragland has joined her daughter in England since the Royal Wedding. Markle invited the women of the Hubb Community Kitchen to cook with her, serving a Middle Eastern–inspired menu of coconut chicken curry, aubergine masala, baba ganoush, and chapatis at the palace. Several guests hailed from the Al Manaar Muslim Cultural Heritage Centre of West London, where the Hub Community Kitchen is based. For dessert, they enjoyed caramelized plum upside-down cake, sweet puff pastries, and, obviously, mint tea.
In her speech, Meghan called the project "a tremendous labor of love," thanking the women of Hubb for embracing her when she moved to London. "I feel so proud to live in a city that can have so much diversity. It's 12 countries represented in this one group of women. It's pretty outstanding." She added, "The power of food is more than just the meal itself; there's the story behind it. When you get to know the story and the recipe, you get to know the person behind it. That's what we're talking about in terms of coming together, to really engage and talk and be able to celebrate what connects us, rather than what divides us. That, I believe, is the ethos of Together."
Ragland reportedly embraced each of the women from Hubb, telling them "I am just as excited as you are." As she said good-bye to the group, she told the Daily Telegraph, "The power of women. We make things happen. We're curious, we say yes. We show up."