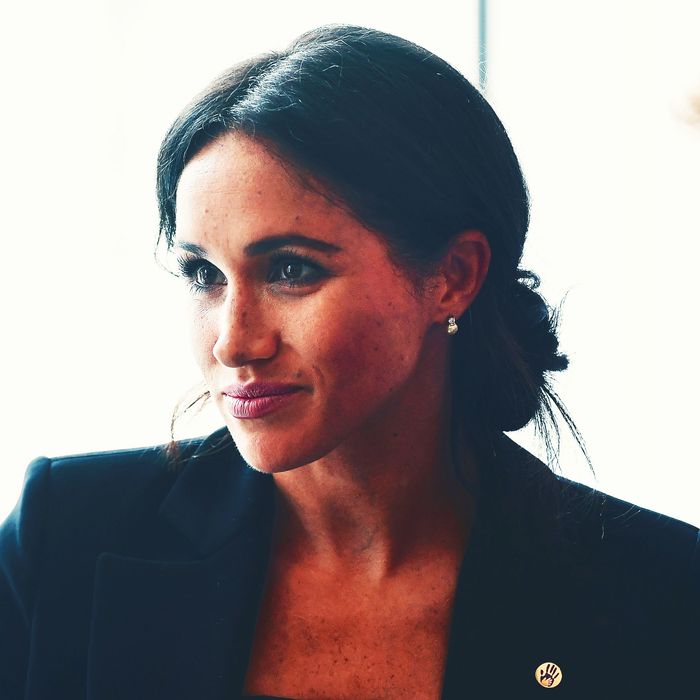 Meghan Markle and Prince Harry.
Photo: Victoria Jones/AFP/Getty Images
Meghan Markle knows that royal protocol prohibits her from expressing political opinions, but apparently, Prince Harry's friends have picked up on the Duchess of Sussex's "trendy lefty stuff" — and they do not like it.
Markle is now much more secretive with her politics; before becoming a royal, she used to be a relatively outspoken liberal who encouraged Americans to exercise their right to vote, slammed Donald Trump's misogyny, and vocally supported Hillary Clinton. But according to writer Lady Colin Campbell, a confidant of Princess Diana, Markle has let slip a few of her political stances and moral beliefs in front of Prince Harry's friends, who just want to talk about their love of shooting without getting an earful about animal cruelty.
"Her politics are an issue," Campbell told the Daily Beast. "She is ultra-liberal and that trendy-lefty stuff does not go down well with some of Harry's friends. He has introduced her to them all at parties and weddings and private dinners, but she is very anti- a lot of the things that their world functions upon, such as shooting."
For Meghan's sake — and Harry's, as well — perhaps the Prince should make friends with people whose worlds function upon beliefs and activities other than shooting.