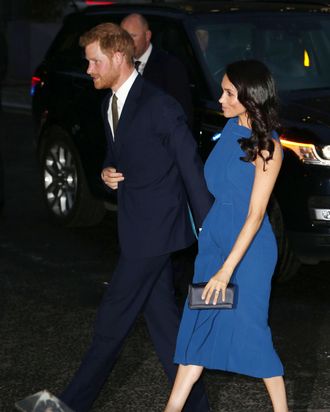 Prince Harry and Meghan Markle.
Photo: Beretta/Sims/REX/Shutterstock
Well, it finally happened. After a brief foray into wearing all black (at least, for her), Meghan Markle and Prince Harry have finally entered their long-awaited blue period. Case in point: The royal couple showed up to a gala on Thursday night decked out in blue — he in a navy suit, and she in a blue Jason Wu dress.
The blue transformation went down at the Royal Armories, a charity concert that benefits three organizations: Help or Heroes, Combat Stress, and Heads Together, the charity the couple works on with Kate Middleton and Prince William. During the evening, the royal ginger and his new British-accent-having wife will meet with performers, as well as representatives from the charities. Sounds like a nice night.
So why did they opt to wear all blue? That remains unclear, though I do suspect that perhaps it is because they both look good in blue. The pair has worn the hue before many times, presumably over the course of their lives, but also including the instances when she wore a navy Dior dress and navy Roland Mouret number. But in my opinion, this is the bluest they have looked in a while.
Unfortunately for those of us who wish to completely re-create Meghan's look, it looks like the Jason Wu dress she's wearing is no longer available. However, there is a black number with a similar contrast available here, as well as a different Jason Wu dress in the same blue hue here. I wish you all the best as you inevitably now enter your own blue period.