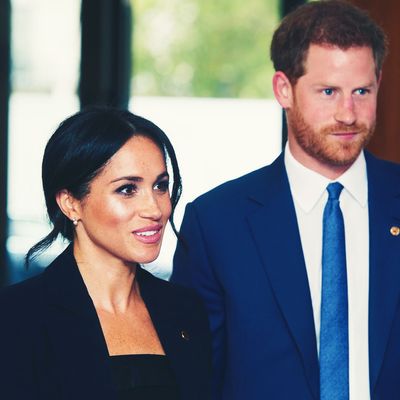 Meghan Markle and Prince Harry.
Photo: VICTORIA JONES/AFP/Getty Images
If there's one thing to know about Meghan Markle and Prince Harry, it's that they love members-only club Soho House. They had their first date at the London club; Meghan's best friend Markus Anderson is a consultant for Soho House; they frequent the Soho Farmhouse in Oxfordshire (which was also reportedly the location of her bachelorette party); and Meghan used to hang out at the Toronto outpost during her Suits days. So it's only fitting that they'd reportedly opt to celebrate their love (of Soho House) during a three-day party in Amsterdam last weekend.
The Evening Standard reports that the royal couple recently took (another!) "secret trip" — this time, to celebrate the opening of Soho House's new Amsterdam location. The Duke and Duchess of Sussex were reportedly joined during the festivities by a number of celebrities, including Eddie Redmayne, Jenna Coleman, Lily Cole, and most importantly, Stanley Tucci. The celebration was apparently not only held in honor of the opening of the Amsterdam branch, but also the 55th birthday of Soho House founder, Nick Jones (NOT Nick Jonas). Here's what the weekend entailed:
• A Friday night guided tour of Amsterdam's red-light district (which Meghan and Prince Harry, sadly, did not attend);
• A Saturday boat ride in the canals (though it's unclear if the royals were there);
• A fancy Saturday night dinner for Jones at Cecconi's, where people ate lobster spaghetti and tiramisu;
• A Sunday brunch;
• And of course, spa treatments, how nice!
We can only hope to one day love anything even half as much as the royal couple loves Soho House.