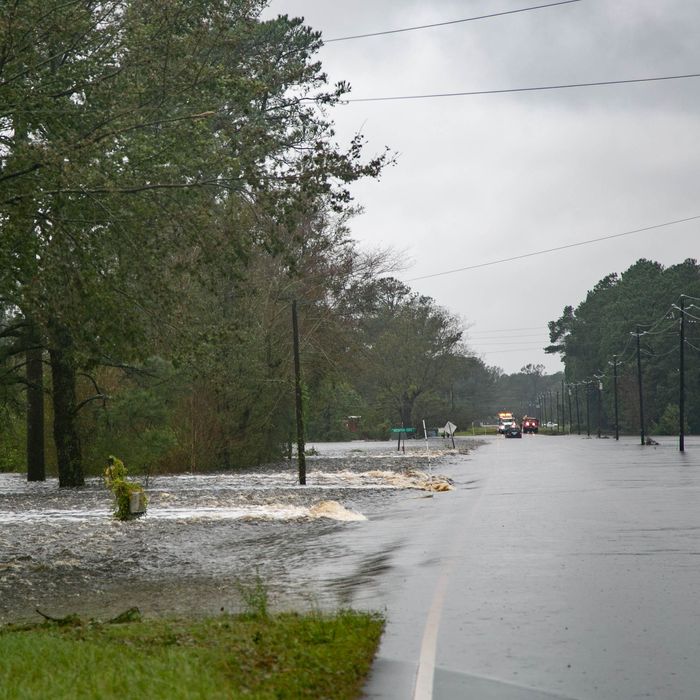 Flooding from Hurricane Florence in North Carolina.
Photo: Emily Molli/NurPhoto via Getty Images
Two female mental-health patients in South Carolina have drowned after the transport van, where they were being held in chains flooded on Tuesday, local ABC affiliate WPDE reports. The incident is currently being investigated by the State Law Enforcement Division.
The women were patients at Loris Hospital and Waccamaw Center for Mental Health in Horry County, and were being transported by two sheriff's deputies to nearby McLeod Health. According to a statement from the Horry Country Sheriff's Office, when the van became overcome by flood waters from Hurricane Florence, the two deputies tried to free the women — who have not been named — but were unable to because of the fast-rising waters. The deputies climbed to the top of the van where they were rescued by a high water team, while the women remained trapped and chained in the flooded van. As of 8:45 p.m. last night, flood conditions prevented officials from removing the van.
"Tonight's incident is a tragedy," Horry County Sheriff Phillip Thompson said in a statement. "Just like you, we have questions we want answered. We are fully cooperating with the State Law Enforcement Division to support their investigation of this event."
So far, at least 37 people have died in Hurricane Florence-related incidents, according to CBS, including 27 in North Carolina, 8 in South Carolina, and 2 in Virginia. Although the storm has left the Carolinas and is making its way north, North and South Carolina continue to deal with intense flooding.