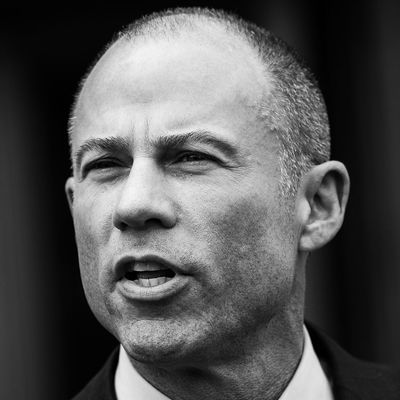 Michael Avenatti.
Photo: Drew Angerer/Getty Images
On Sunday night, as rumors circulated that The New Yorker's Ronan Farrow and Jane Mayer were about to reveal a new allegation of sexual assault against Brett Kavanaugh, Stormy Daniels's attorney Michael Avenatti tweeted that he was representing a woman with "credible information regarding Judge Kavanaugh and Mark Judge." Once the investigation was actually published, Avenatti clarified that the woman he represents is not the subject of The New Yorker piece, Deborah Ramirez, who had told the magazine that Kavanaugh exposed himself to her a dorm party at Yale.
Avenatti has continued to tweet about the "credible information" he purports to have, including details about his client and screenshots of emails with the Senate Judiciary Committee. Here is everything Avenatti has revealed so far. We will continually update this post as new information comes to light.
Avenatti had been tweeting his support for Kavanaugh's first accuser, Christine Blasey Ford, over the past week.
Before Avenatti revealed the existence of his new client, he began tweeting messages in support of Christine Blasey Ford, the Palo Alto University professor who has accused Kavanaugh of sexually assaulting her during a high-school party as his friend, conservative writer Mark Judge, watched. Avenatti tweeted about the need for Ford's supporters to rally around her, and of the way Anita Hill was mistreated when she testified about her sexual-harassment claims against now-Supreme Court justice Clarence Thomas.
On Saturday night, he took his support even further, tweeting cryptically, "All indications are that Dr. Ford is not alone. Buckle up - that includes you Mark Judge."
He further tweeted on Sunday morning, mimicking what Kavanaugh said in a speech, that "What happens at Georgetown Prep does not stay at Georgetown Prep."
On Sunday night, Avenatti revealed the existence of his new client on Twitter, and called on Kavanaugh to withdraw his Supreme Court nomination.
In a Sunday night tweet, shortly before The New Yorker report was published, Avenatti tweeted that he represents a woman with "credible information regarding Judge Kavanaugh and Mark Judge," the man Ford had named as Kavanaugh's accomplice during her assault. Avenatti continued, "We will be demanding the opportunity to present testimony to the committee and will likewise be demanding that Judge and others be subpoenaed to testify. The nomination must be withdrawn."
The Senate Judiciary Committee then contacted Avenatti to ask about the "credible information" he referenced.
After his Sunday night tweets, Avenatti was contacted by Mike Davis, chief counsel for nominations for the Senate Judiciary Committee, requesting access to the information he purported to have. Avenatti published screenshots of the email exchange on Twitter, including details about the claim his client allegedly has against Kavanaugh. He wrote in the email:
We are aware of significant evidence of multiple house parties in the Washington, D.C., area during the early 1980s during which Brett Kavanaugh, Mark Judge and others would participate in the targeting of women with alcohol/drugs in order to allow a "train" of men to subsequently gang rape them.
Avenatti wrote that there are "multiple witnesses that will corroborate these facts." He called on the witnesses to be called to testify publicly, in addition to calling on Senate investigators to ask Kavanaugh about the claims.
The claim came shortly after The New Yorker reported that Mark Judge's ex-girlfriend said he once admitted to "taking turns" having sex with a drunk girl.
Speaking with The New Yorker, Mark Judge's ex-girlfriend of three years Elizabeth Rasor challenged his assertion that there was "no horseplay" at the Georgetown Prep parties he attended. She said that Judge "told her ashamedly" about an incident in which he and other boys took turns having sex with a drunk woman, and that he seemed to think it was consensual. He did not name anyone else involved, and there is no indication that Kavanaugh was one of the boys, The New Yorker notes.
Avenatti also tweeted a disturbing allegation about an entry in Kavanaugh's yearbook.
The attorney said Kavanaugh should be asked about an entry in his yearbook that reads: "FFFFFFFourth of July." He stated that it might stand for "Find them, French them, Feel them, Finger them, F*ck them, Forget them." He also mentioned the term, "Devil's Triangle," without providing further information.
Avenatti continued to tweet additional screenshots of emails between him and the Senate Judiciary Committee's chief counsel for nominations.
He also requested Committee chairperson Senator Chuck Grassley call on Mark Judge to testify about the matter.
Avenatti revealed on Monday that his client has done work with various government agencies.
In a Monday tweet, Avenatti wrote that his client "has previously done work within the State Dept, U.S. Mint, & DOJ. She has been granted multiple security clearances in the past including Public Trust & Secret." He also warned, "The GOP and others better be very careful in trying to suggest that she is not credible."
Avenatti says his client is expected to go public with the allegation in a TV interview by Wednesday.
Avenatti told the Hill on Monday that he expects his client to go public with her accusation against Kavanaugh in a television interview within the next 48 hours. "We anticipate that that is what is going to occur," he said, before adding "We have not finalized the details."
This post has been updated, and a line that mistakenly referred to Avenatti as Kavanaugh has been corrected.