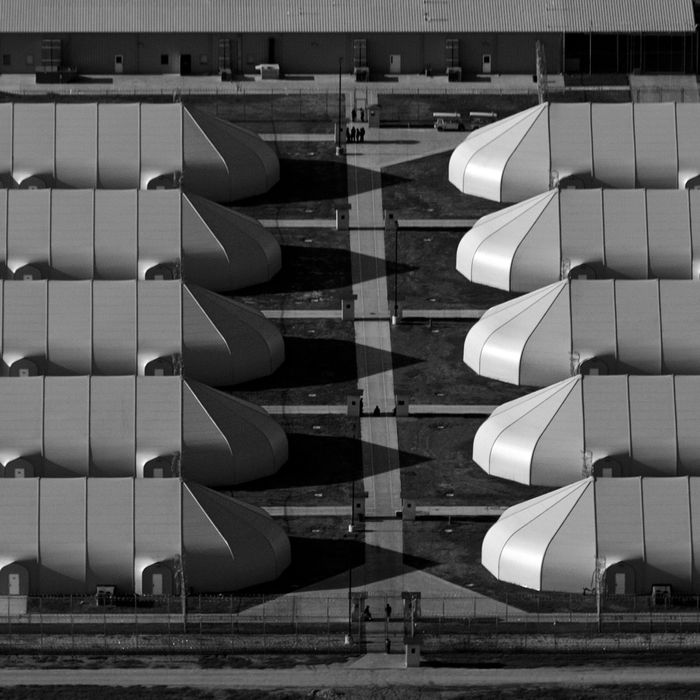 Migrant camps in Texas.
Photo: PAUL J. RICHARDS/AFP/Getty Images
Hundreds migrant children are being moved in the middle of the night from shelters across the country to tent camps in Tornillo, Texas, according to a report from the New York Times. The move was made as a way to create more space for the increasing number of children being detained by the government.
Earlier this month, it was reported that 12,400 migrant children were being detained by the United States, many of them coming into the country unaccompanied by adults. That number is five times what it was in May 2017.
Shelter workers anonymously told the Times that moves are done in the middle of the night to limit the likelihood of children attempting to escape once they discover that they are being moved.
The children were reportedly moved to make space for new children who are arriving into the country. The decision to move the children was based on who was likely to be taken in by a sponsor first. The Times reports that the children moved to the "tent city" in Texas are 13 to 17 years old, and are not expected to stay in custody for long.
But advocates are worried that these children will not be released soon, and could be held for months. Sponsors have been reluctant to come forward to claim detained children, and many attribute this to the increasingly severe immigration policies under President Trump — a senior ICE official recently testified that the agency had arrested several people who came forward as sponsors due to their immigration status.
The children in the shelters will go from being in rooms of two and three children, to less regulated tents where children will be put 20 to a tent in rows of bunk beds.
Reports have shown that being detained has a severe and negative impact on the children's mental health. Detention center guards have been accused of abusing, starving, and molesting children in their care.