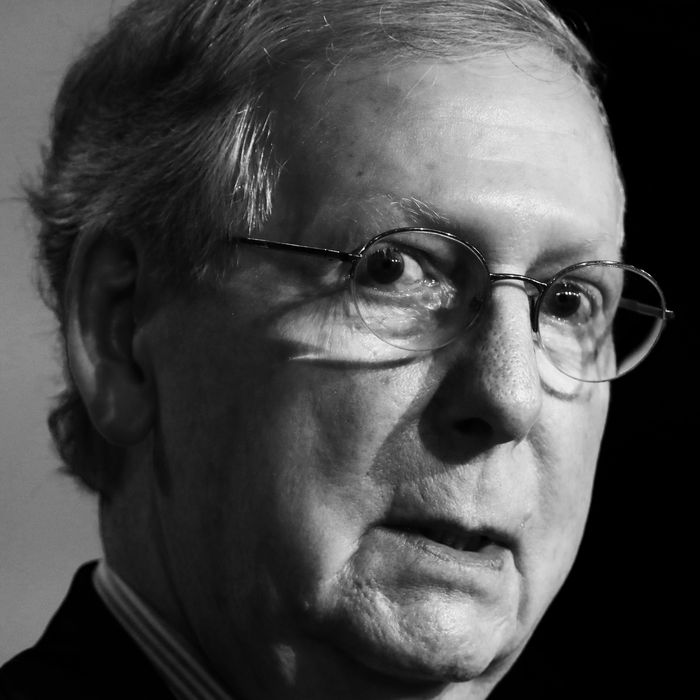 Senate Majority Leader Mitch McConnell.
Photo: Chip Somodevilla/Getty Images
Senate Majority Leader Mitch McConnell has a solution to the all-male judiciary committee that will preside over the Christine Blasey Ford hearing on Thursday. At a press conference on Tuesday afternoon, he revealed that he hired a "female assistant" to ask Ford questions about the sexual assault allegation she made against Supreme Court nominee Brett Kavanaugh.
"We have hired a female… assistant to go on staff and to ask these questions in a respectful and professional way," said Mitch McConnell, seemingly struggling to get out the word "female" and then taking a moment to recover. "We want this hearing to be handled very professionally, not a political sideshow."
According to CNN, the committee hired an "experienced sex crimes prosecutor" to handle the questioning, but Judiciary Chairman Senator Chuck Grassley will not reveal that woman's identity before the hearing out of concerns for her safety. The unnamed lawyer will be asking questions on the behalf of all 11 Republican senators on the committee.
"We have done it because we want to depoliticize the whole process like the Democrats politicized the Anita Hill thing," Grassley said to CNN. "The whole purpose is to create an environment where it is what Dr. Ford has asked for – it be professional and not be a circus. That's what we're up to."
However, Ford's lawyers have reportedly pushed back against having outside counsel participate in the hearings. "This is not a criminal trial for which the involvement of an experienced sex crimes prosecutor would be appropriate," an attorney for Ford wrote in a statement to the committee. "The goal should be to develop the relevant facts, not try a case."
The Democrats will also be asking questions, but they have not hired anyone to do so on their behalf. Several of the Democratic senators protested the Republican's decisions to keep the identity of their hired lawyer secret.
"Who is going to speak for all of the 11 Republican senators?" Illinois Democratic Sen. Dick Durbin said to CNN. "We don't have the name, do we? Someone has been given a new job – a person we don't know. At some point that secrecy has to be unveiled. We should at least know who is going to take the place of the 11 duly elected senators."
Even Republicans that weren't on the Judiciary Committee said that they would not want to question Christine Blasey Ford. "Somebody will do something that you guys will run 24/7," said Senator Bob Corker.