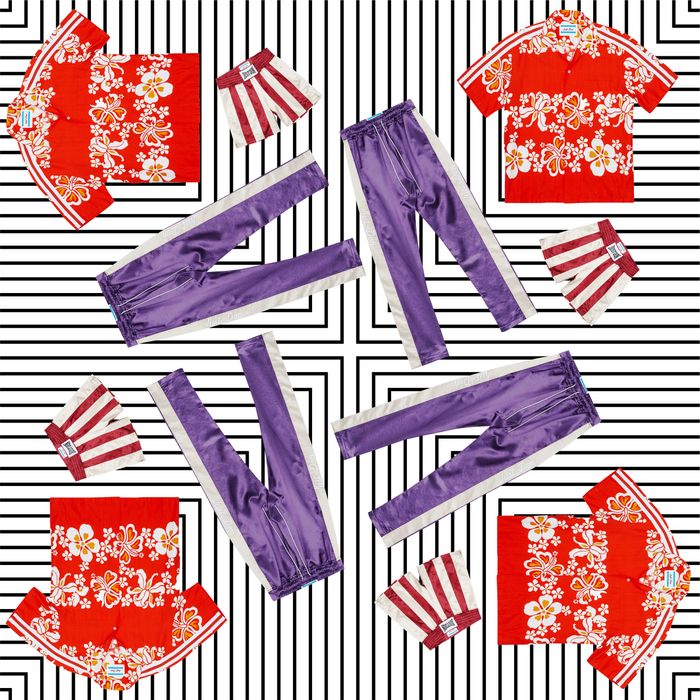 Photo: Courtesy of the Retailer
Back in June, Moda Operandi launched menswear. Like the women's offerings, the selection is geared towards those who embrace color and pattern — the males of the fashion-peacock species. While the site carries plenty of well-known brands like Burberry, Prada, and Givenchy, it's also taking a chance on lesser-known designers as well. The most recent launch (or drop, since we all live in a streetwear world now) is an exclusive collection by Don C., the co-founder of Chicago's RSVP Gallery boutique.
Don C used to be Kanye West's tour manager and co-founded RSVP Gallery with Virgil Abloh. He's well-established in the streetwear world, often collaborating with Nike on extremely limited collaborations under the brand Just Don. ( Jonah Hill is, of course, a fan.) The Moda collection is his first foray into traditional, seasonal ready-to-wear. Featuring colorful camp shirts, tearaway pants, hoodies, tie-dye shirts, and sleek jackets, it's a continuation of the unexpected trends we saw last summer. And while it's technically for men, take note of the video: the collection has plenty of unisex appeal.
The clothes cost a bit more than what you'd pay for streetwear; prices start at $275 for tees and top out at $1,500 for outerwear. Scroll ahead to see some of our favorites.
Available in sizes XS–XXL
Available in sizes XS–XXL
Available in sizes XS–XXL
Available in sizes XS–XXL
Available in sizes XS–XXL
If you buy something through our links, New York may earn an affiliate commission.